The Black Family is pleased to announce, that after much sweat, tears, trials and tribulaions, we now have a little somethin' somethin' growing in the backyard...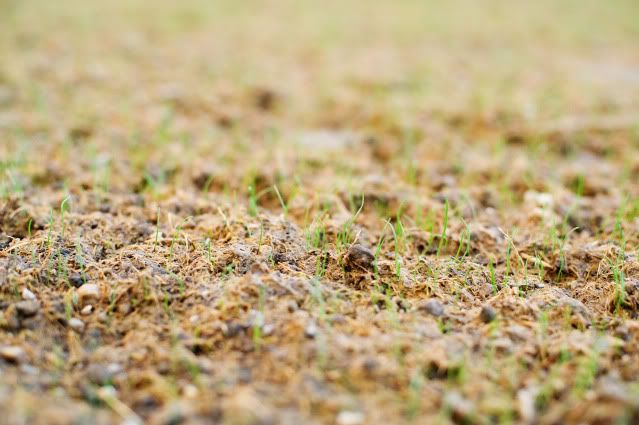 yep, that would be tiny baby blades of
grass
!!!
and it's growing in
our
yard! We are so excited! (It only took us most of the summer)
It all started with DIRT. lots and lots of dirt.
and SPRINKLERS, put in by my hard working hubby: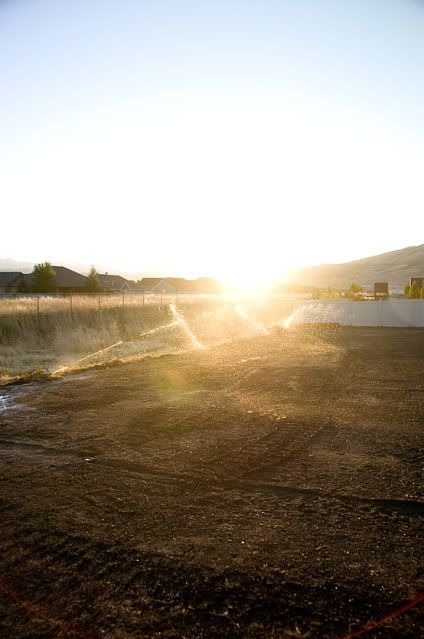 We are so happy to finally have this one checked off the list. We went with hydroseed rather than sod in hopes that it will grow into a nice luscious lawn, you sure miss out on the instant gratification element that way, but we're learning patience around here, after all.
speaking of patience.... I've been waiting since Christmas to use this: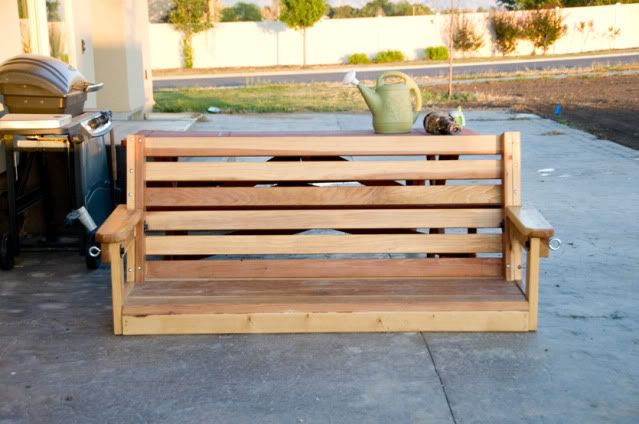 my dad made us this swing for the backyard and I can't wait to hang it from the pergola we're building on the patio!
In other news, we also now have flower beds in the front yard!
I used an extension cord (because I couldn't find string or a rope) and made a line about the shape I was going for along the grass, then spray painted that line, then came the hard work. I got down and dirty with a shovel and cut the line and ripped out sod for 4 nights in a row while my sweetie hauled wheelbarrows full of dirt into my beds for me!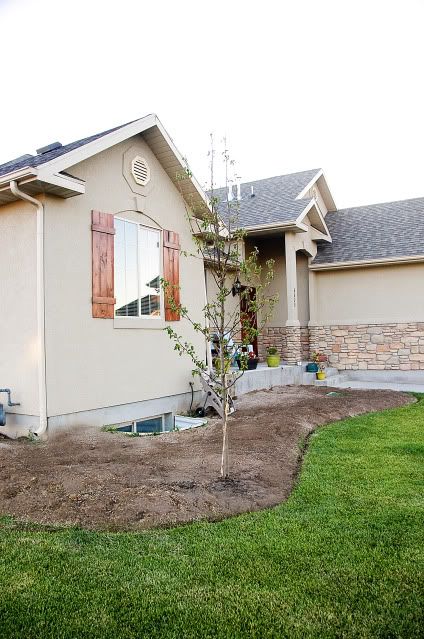 One night I had just come home from a cycling class at the gym to find him out there with at least 6 neighborhood little boys, all digging in the dirt and helping him. He decided to start without me, but I think he really just wanted to play in the dirt with the kids! I should have taken a picture, but those little boys went home dirty for a few nights in a row. They dug tunnels and really got into it. Our kids where the cool kids on the block because of our dirt pile. :)
We still need to add some nice organic matter to the dirt and a nice mulch on the top, but it's taking shape! I can't wait to plant in them!
This calls for a new
before and after!
before:
AAAHHH!
after: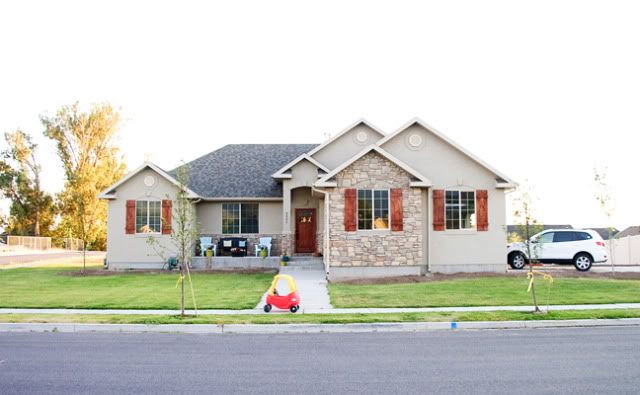 ahhh.
Landscaping is hard work. But it makes this house feel a lot more like a home, so we're glad to have done it. We're not just going to sit around and wait for grass to grow though...
so in typical Mindy fashion, I've already moved on to the next big thing, and I can't wait to show you my big boy's room! (wink wink)