*Reminder- Scroll down for my giveaway ending this friday!*
I've had lots of questions and emails about the paint colors used in my big boys room and on my armoire. The paint on the armoire is a custom mix, meaning I just mixed a bunch of paint I had until it turned out how I wanted it. I wanted a greenish blue but not too bright, so I added some black and grey to give it a bit of a "dirty" or greyish cast to it.
I took my paint stick to the good ol' Home Depot and had the nice guy give me a formula for the color.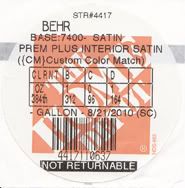 I'm sorry I can't decipher it for you, those of you wanting to should probably just print this off and take it in maybe? Good luck!
And the paint we used in my Big Boy's Room is Valspar Signature Grass Lake. yummy. I love it.
I think it would look cute in a girls room too. Imagine it with hot pinks and oranges and yellows!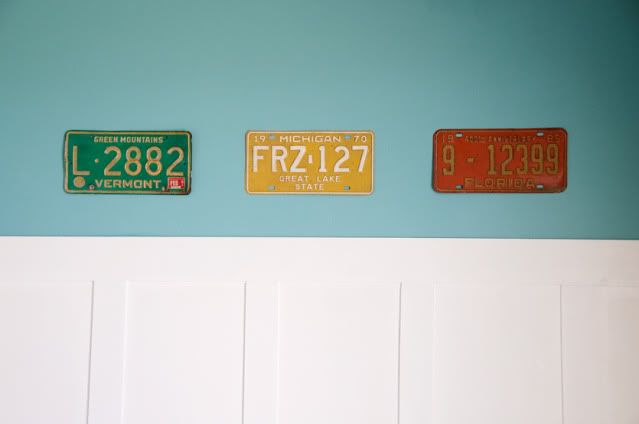 I promised I would give a quick little
"how to"
, this is more of a
"how I did it"
though.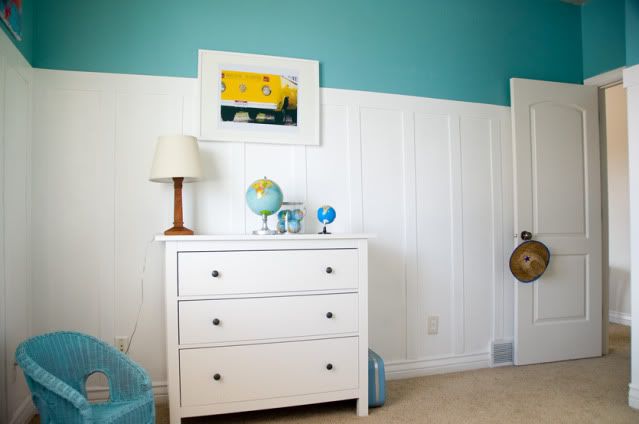 (don't judge the outlet covers. I think I'll end up spray painting them so they blend in, all of the light covers and outlet covers in our house are the same color as the paint when we moved in... builder beige, everywhere!!! Anyway, I'm getting to them!)
I'm afraid this is going to be a boring post. Please pretend to be very enlightened and interested. :)
One thing we really wanted to avoid was redo-ing the moldings already in place, so we knew that unless we wanted overlapping, the vertical pieces need to be super thin, like 1/4 inch thin. That left us very limited with what materials would actually work. We found some at Lowes or Home Depot and did the calculations and it was going to cost about $200 for all of the pieces, that included the top rail. We contacted a local mill just to do some shopping around and got an email quote for about $160. Then, a few weeks later I saw a post Chris wrote about using sheet mdf instead of pre-cut. To our surprise, doing it this way only cost about $45 in materials!! But because we used 1/4 inch thick sheets, the Home Depot couldn't cut it for us, they said the rollers on the saw mess it up or something, so we had to rip our own sheets, which was tricky considering how thin they were, but it worked out fine in the end.
Here's the run down:
-The vertical strips are 3 inches wide.
-They are spaced every 13 inches (random number, I know, but that's what worked so we didn't run into outlets and it turned out pretty even.
-The spot under the window has a special 11 inches between the styles. It wouldn't really work out and look right any other way.
- The top rail is 4 inches wide. Our bottom moldings (already there) are 5 1/4 or 5 1/2.
-We used those same 4 inchers to trim the window.
I just went along and measured every 13 inches, then three inches to accommodate for the width of the strip, then another 13 inches, all the way around. Once it was marked I went to town with the nail gun. (I used to be so scared of that thing, but now I really like using it!) My hubby set up the tools for me, watched the kids, and brought me more pieces when I was ready for them. He's the best. He's there when I want help, but he backs off when I have a mission to complete. :)
So I placed the vertical pieces first, then the top rail. Of course I needed help holding the top pieces in place while I nailed. My hubby did the window, miter cuts still make me nervous, and he has become quite proficient with all of the molding he's cut for me over the years (because I'm a molding freak!)
When it was all nailed in place we just caulked it really well and painted. I used Behr paint plus primer (since the mdf was unprimed and unpainted) and it really made the painting go faster. By bedtime the next night it was all dry and his stuff was all put away. It probably took a total of 1 hour for the board and batten and maybe 2 hours of painting.
3 hours and $45, and I know it's not text book board and batten, but we are thrilled with it!