I've wanted to get rid of our ugly alarm clock that we've had since the beginning of time (aka 2004).
I've been eyeing a pretty little clock like this:

Pottery Barn Charleston Clock $39.
I love the classic simplicity of it. This is what I'm going for.
Not this:
I hated putting it on our new dresser, and I cringe every time I have to look at it. I hate the sound it makes in the morning and I want to throw it every time it goes off.
Anybody out there with me? I promise, our alarm clock sound is one of the worst.
Anyway, I did find the same pretty clock for a little less at the Down East Home store (they sell overstocked and damaged Pottery Barn goods, as well as some other brands). Their price was just under $20. I was hoping to score a better deal than that, so I patiently waited.
Until today...
Today I was at the good old WAL-MART looking for fabric dye. They didn't have the color I wanted, but I did find some clearanced home items, among them, this: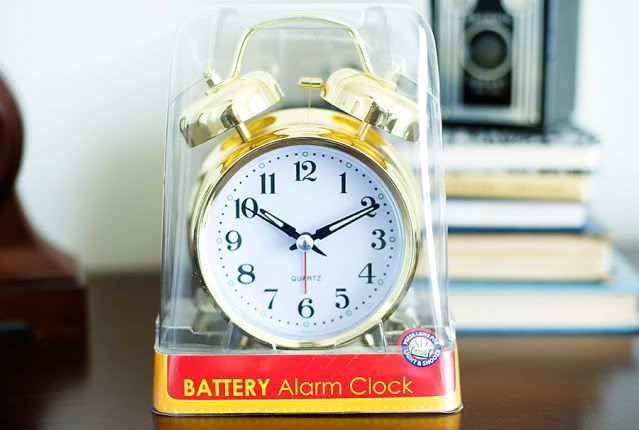 For $2.97!!!
Yes, $2.97! The only problem was the brassy finish (even though that's coming back a bit, I just can't embrace it yet.) So I decided for $2.97, would be willing to take it in and give it a cheap make-over.
Enter Rustoleum.
This $3 can of spray paint gave me the clock I wanted for just under $6.00!
I just used painters tape to cover the face, I used my fingernail to kind of cut and shape the tape around the crack surrounding the face, if you don't have fingernails you could always just use a little knife or sharp tool, I would just be careful not to press too hard.
I took it outside and sprayed it on a piece of newspaper while my kids where napping, left it in the sun to dry for a bit and
voila!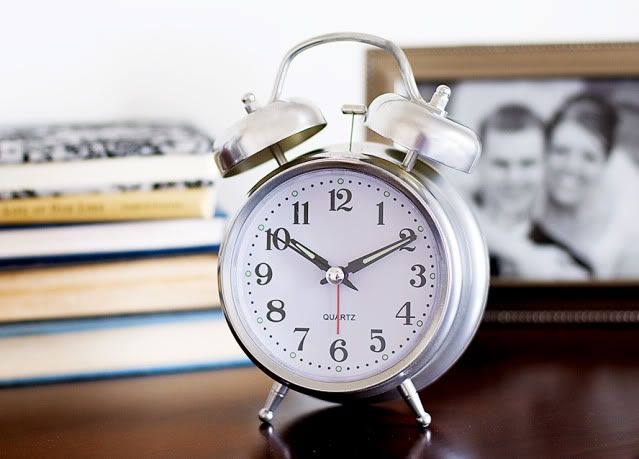 One Pottery Barn knock-off vintage looking alarm clock for under $6!
And I think I might actually like mine better, it does have those cool little bell thingy's, after all!