I have a serious house fixation.
I love houses.
I love insides and outsides.
I've fallen in love with many a great house.
I will frequently take the long way just to drive by a house I love, or plan my running route around a way that I know has pretty houses that I like to look at. (That doesn't make me a nut, right?)
Lucky for me, I married a guy that likes houses too. He will humor me when I want to take the long way. We have "dream house" discussions all of the time, and he not only listens, he participates and adds ideas too. He's perfect for me, that's for sure.
We started adding to our "someday" house file right before we were engaged. It started with one picture of a house we saw and loved (and tried to discreetly snap without making anyone think we were terrorists or stalkers, hence the van blocking the garage!)
Our preferences have changed in the almost 6 years since then, I wouldn't choose that exact same thing now, but I still love the basic idea and shape of it... and it kind of leads into what I love now days, so that's the fun of it, I guess.
That file has grown, and we now have a big one on our computer and a paper file with pictures, sketches, and torn out magazine pages. Having a house file has really helped me to see what our style is, just by looking at the pages and images we've collected. I'll talk more about the file later, I'll show it to you in another post.
Anyway... my dream house...
I don't think I ever want a huge grand house. My dream house is a casual, comfortable home with lots of architectural details, lots of white trim, and warm inviting spaces suited for a family (with small boys I might add.)
Here are a few favorites lately:
This one is my #1 favorite right now.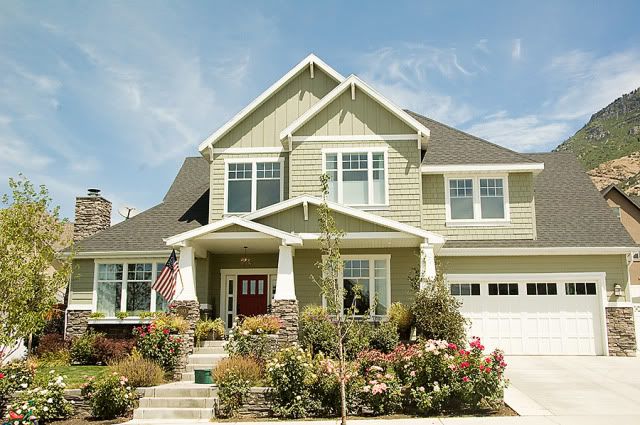 I love that it doesn't look like every other house, I love the craftsman elements, the tapered columns are my favorite. I love the shingle style siding (rather than typical Utah stucco.) The colors are fun, it's visually pleasing. The front door is perfect for it. I
*love*,
love,
LOVE
this house.
I think this house should win a prize or something. Isn't it great?
Here's my #2 right now.
This cape cod style is just down the street from our home. It's fairly new, but has lots of "old house" character (another thing on my dream house list.) It's timeless. Every time we drive by I tell my Hubby I want to build a house similar to this one. It's simple and I love the big porch. Maybe you can't tell, but the front door is red. If it where my little house, I would want the inside to be kind of farm style.
Oh! And check out the back...
It's gorgeous when it's not snowy... the landscaping is amazing. I envision my daughter's wedding in the back yard with pretty paper lanterns and twinkly lights... but wait...I'm getting ahead of myself... I don't have a daughter yet. :)
Oh well, someday, right?
I think the back of this house is just as charming as the front.
And here's the part where I bombard you with 9 billion images from my dream house file... I love different elements of all of these beauties.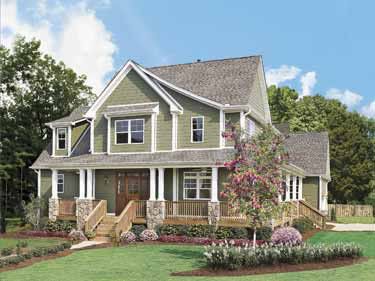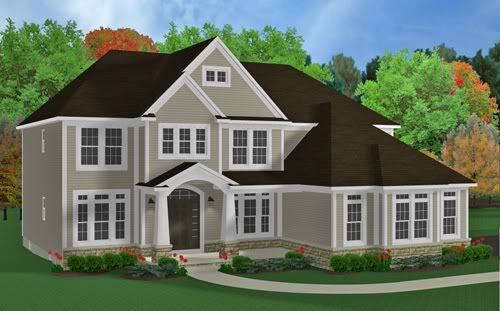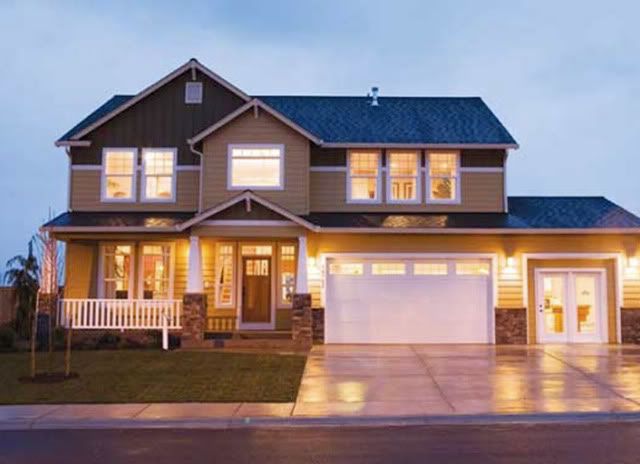 And right now we're thinking of a way to add a little of this...
to our back patio. LOVE IT!
We've only been in our new home for 4 months or so, and I'm not planning on another move any time soon. It's plenty big enough for us, 3400 square feet for our little family is enough. I'm happy with what I have for now. I'm content to work on it and make it how we like it, but it's not the "end all" house for us. It's fun to dream and plan for our "someday" house.
It made me giggle when two people in the last month drove by our house and
un
-discreetly snapped a picture out the window... only because I can totally relate, and I've been that crazy person before... although my house isn't setting the bar very high... yet. We'll get it looking good soon enough. :)
So how about the rest of you? Are there any other house crazies out there? Do you ever drive or walk the long way just to see a great house, or
un
-discreetly drive by and take a sneaky picture of a house you love? Do you have a favorite architectural style or a dream house file?