*Don't forget to scroll down and enter the
CSN Stores giveaway
, it ends on Thursday morning!*
We had a really productive, basement lovin' weekend! I'm just now getting around to sharing all of the stuff going on, but the good news is, most of the trims are cut, nailed and caulked. We have a ton of painting to do, but we can handle that! We still need to go carpet shopping, and our stair treads and banister parts have been ordered and work on that should start in the next few weeks (we hired that part out).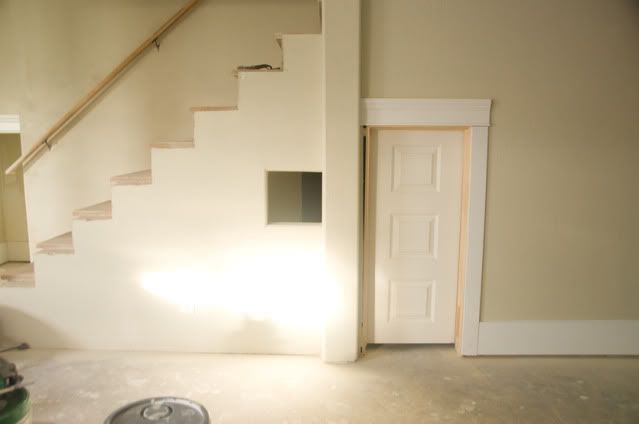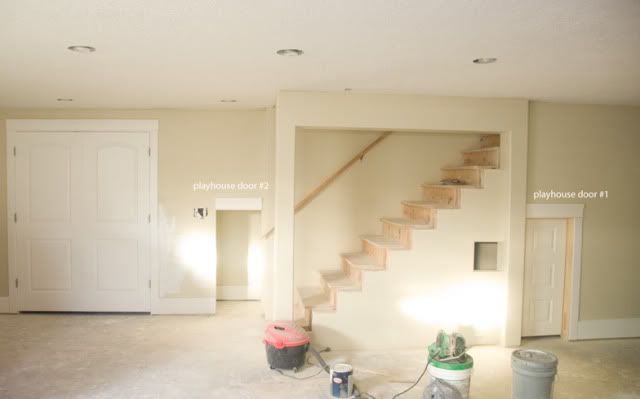 The playhouse now has a cute little door, we're re-working the plan for the play house a little, I'm not sure exactly how it's going to look when it's finished, but I think it will be fun. Notice the little doorway on the left, that doorway leads into a little hallway like a "tunnel" that connects into the main area of the playhouse, the kids already love running around in circles, in one door and out the other. We put little lights inside the tunnel area and everything (It's hardly a tunnel though, an adult can stand up straight and walk through it, but the boys think it's magical and that's all that matters!)
Scott has been hard at work adding craftsman details, and everything is going to be light and bright. This little built in was a last minute whim, it was supposed to be a closet with a door, but it's on the same wall that our TV will be on. We decided to turn it into a built in shelf and I'm so happy that we did! Scott built a base and trimmed it out, next come the inside shelves. I'm deciding if I want the back painted white like the rest of it, or if I want to do something fun with color on the back... it could be really great. Thoughts?
The biggest change down there has been the office. We took the covering off the glass door (details on that in another post) and taped off the area where the wainscot will be (I promise we measured, and it is on a third, although in this picture it kind of looks like half, I promise it's not) and selected a paint color and painted the top part of the wall.
Are you ready for this?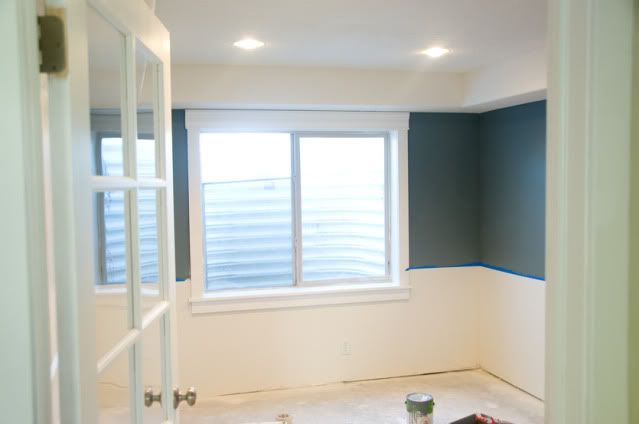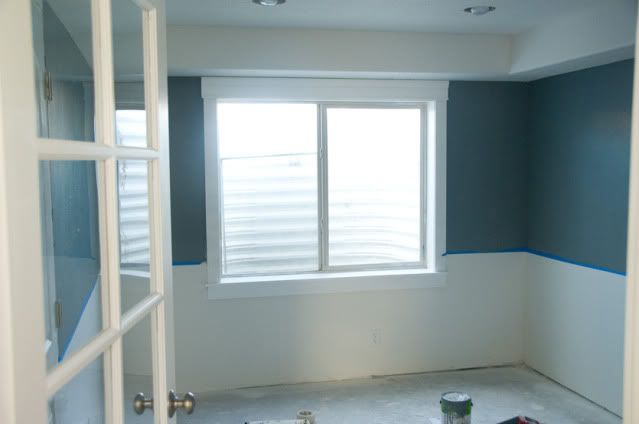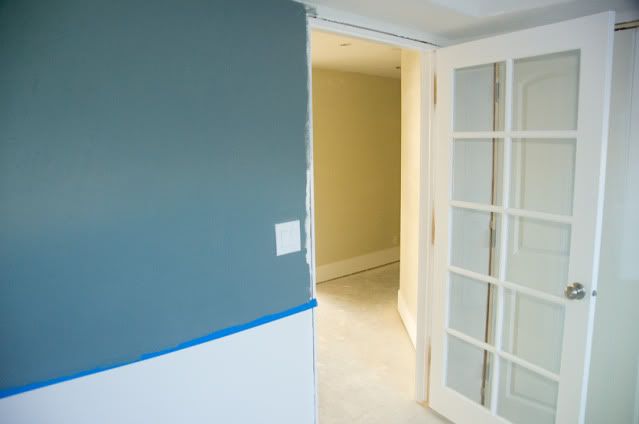 Waaaahhhh!!! It's way out of my comfort zone, I usually go for light bright neutrals, but I'm really liking how it's looking! The color is Martha Stewart School House Slate. We mixed it in Olympic low VOC eggshell finish. I freaked out when Scott put the first swipe on the wall, remember my
painters remorse
problem? In our first house I learned quickly that I really don't go for darks or even midtones. I like light paint. This kind of made me twitchy as I watched it go onto the wall. I don't know why the turquoise in
Carter's room
didn't bother me, it's a bright color, so I wasn't as nervous, but this is super dark for me. Lucky for all involved, I have zero painters remorse this time, I really love the color!
We spent Friday night down there, Scott painted while I peeled that horrible protective stuff off the glass doors. At one point, he tapped me on the shoulder and pointed to the wall behind me. I looked up to find this: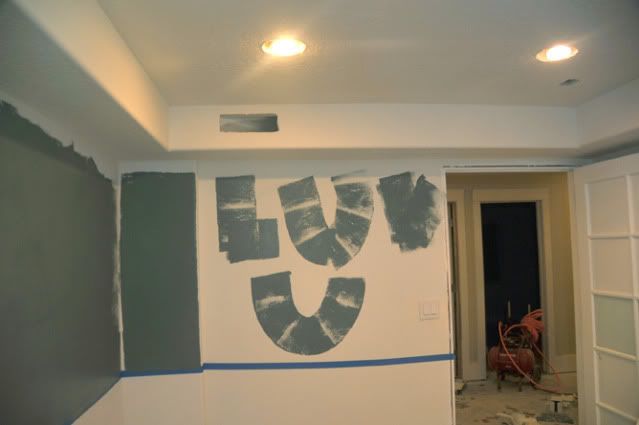 What a guy. :) We always feel a little nerdy when we admit to people that working on a project is as good as a date night for us, but it really is. We both really enjoy building things and making our house better for our family, and we have a fun time talking and laughing about silly stuff while we do it.
The plan is this: We are laying dark bamboo on the floor, we'll keep the same desk we have upstairs and I plan on bringing in some grays, lots of whites and who knows what else to accent it with, but here's a little idea board I threw together to kind of show where we plan on going with this:
A tiny bit nautical, but not overwhelming nautical. We want to display some pictures and maps from our favorite trips and vacations on the walls.
Here's the big question though. We are thinking we should paint the ceiling a muted down version of the wall color, a kind of grayish blue, just so it's not such a harsh transition between the dark slatey blue walls and the pure white ceiling, but at the same time, I kind of like the clean white ceiling and Scott is talking about doing some fancy trim work like this:
Which would be de-lish. If we did that, we would probably do a light gray toned paint inside the boxes to make the trim work pop. That's something we can add later though. Right now we just need to get to the carpet phase before I go mad.
The last and smallest detail is that we took out an ugly wall mounted globe light in the stairwell and replaced it with this beauty:
I'm dying over it. For the first few days I would open the door and just gaze at it (the door will come off as soon as the stair work starts for an open and airy transition to the stairs). We still have to touch up paint around it, but I couldn't bear to leave it out of the basement update.
Anyway, that's what we've got going on down there! When we first saw this house we were over-the-top excited with the potential we saw in the basement, it's a daylight basement, and it really is nice and bright down there, the big windows make it feel less like a basement and more like just another part of the house. We can't wait to get 'er done and start enjoying it!