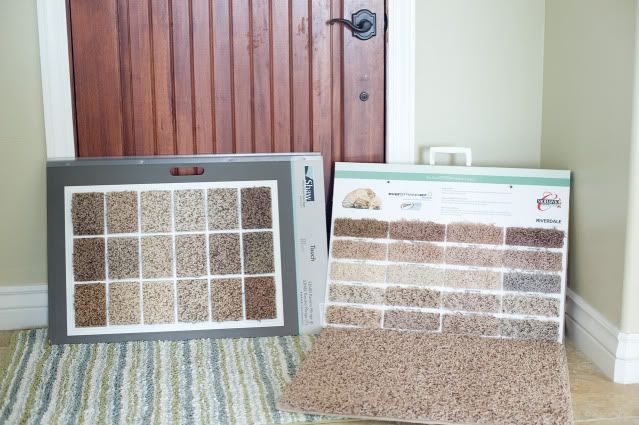 CARPET!!!!
I thought we would never get to the carpet phase in the basement, but I'm so happy to report, we picked some out on Friday! It's super soft, and I can't wait to finally be able to settle in down there and use the other half of our house! It's actually not any of these colors, so you'll just have to be surprised, but it is neutral, it's going to look great with the paint, and it's a good mix between "light" but not "too light to keep clean". We're going for light, bright and airy so I did go with a lighter carpet. The only things left to do before the carpet comes are install the bamboo flooring in the office and our neighbor contractor friend is doing our stair treads and stair stuff (banisters, ballisters and the like). We've been waiting for some materials to be made, but it looks like this week is the week, so hopefully carpet NEXT WEEK!!! Ahhhh!! Yay! My almost three year old chattered on and on yesterday about all of the toys he was going to take downstairs to play with when we get our carpet in. We're all just a little excited!
In the spirit of "almost" being finished with the construction, my mind is turning to the fun and pretty parts, decorating and furnishing. We had originally planned on moving our dark brown leather set down, but to be honest, I just don't love them. They were a mistake from the minute they were delivered to our first house. They're just a lot darker than I prefer... after talking to my (wonderful, supportive, patient...) hubby, we came to the conclusion that now would be a good time to invest in a sectional like we had wanted for downstairs and eventually we'll probably sell the leather set and go with something lighter and slip covered for our upstairs great room.
So, what do ya do when you're two weeks away from carpet? You start shopping for a couch! I should have just waited, it would have been easier and smarter that way, but I was too excited. I did some online shopping (homework.) and was a little discouraged at how much it would cost to get the one I would really love. I priced out Pottery Barn (for fun) and the total was about $3,400. OUCH. We've been saving up, we're also using some of our tax refund, but sheesh. That's almost as much as my first car cost. I priced out everything from Bassett, RC Willey, Ashley, Sofa Mart and Ikea. What I came up with was nada. The ones I really liked were crazy expensive, the ones in our desired price range where ugly (aka puffy arm sectionals that belong in the 90's). The Ikea option was definately more affordable, but they always seem a bit lighter and not as well constructed... I'm saying that because we do have the ektorp slip covered chair, I like it, but it's not the most comfortable seat in the house. It's okay, but it feels kind of hard, when guests sit in it they always make a comment like "Oh, I get the comfy chair!" then they sit in it and I always see this surprised look on their faces, it's really not as comfy as it looks.
Anyway, on a whim one day last week, I loaded my little boys up and headed to Down East Home. They have a lot of discounted Pottery Barn and other brand furniture, but you sometimes just have to get lucky. Right as I walked in, I saw this beauty, staring back at me:
Um... yes, please! Light, bright and airy! I was thinking something along the lines of cream, gray or a light tan would be perfect and there it was. The fellas and I sat on it and it was super comfy. Nice down cushions and of course slip covered and highly washable. The price tag had it marked down to $1399.00, yes, that's a lot of pennies, but if I had walked into pottery barn and ordered the same sectional it would have been close to $3000. And this is a piece of furniture we plan on keeping for a very long time AND we have saved up cash for this purchase... just sayin'... I'm not a furniture snob.
So I took this picture with my cell phone and practically skipped out of the store!
Scott liked it too, when I showed him the picture, so we made another trip in on Saturday to look at it. Right next to it, was sitting another, even better looking sectional that had just come in the day before: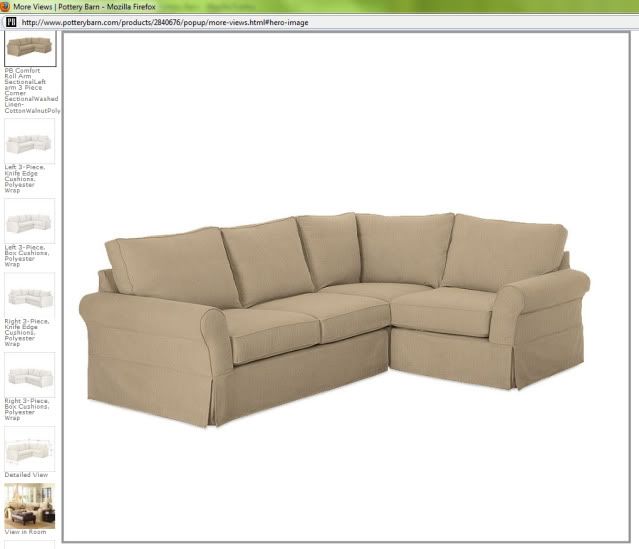 I didn't get a picture of the "actual" one, because my kids were bouncing on couches and we were comparing every detail of the two sectionals. Something about this tan one just seemed "nicer" it seemed like the slip cover was less "slumpy" it just seemed to be a nice tight fit, the cushions seemed to have a little more support and everything about it looked too good to be true. Sometimes some of the furniture that comes in there looks a little like a floor model, it might have marks on the the upholstery, dings or small scratches in the wood, stuff like that, but this couch was pristine. It was an easy choice looking at them side by side. The tan-ish one just seemed better. The fabric was a B class linen/cotton blend fabric, where the other was an A class pure cotton. It was $100 more, but obviously well worth that $100 extra.
We left and I hit up one more store, just to be sure it was what we wanted. I went to my favorite,
Down to Earth
.
There I found an upholstery sale- 30% off upholstery items. This couch was marked down to $1399, so in the same range as the other two. The cons about this one though, it wasn't slipcovered, and it's actually just a huge sofa with chaise, not a true sectional. This thing was gargantuan though. The lady working there measured it for me, it's 138 inches wide... um, holy sectional, Batman! I'm sure it would have "fit" but it would have felt like too much furniture, for sure. It was comfy though, and that chaise can be moved to the other side, so unlike a lot of sectionals the configuration is flexible. I also priced out a sectional like the one at Down East, made by ROWE, and was sickened by the $3,000-$5,200 price tag. Yikes!
As we talked about it later that day we felt like that second tan-ish colored one was the perfect one. I went back to the store to have them put a hold on it until we can pick it up on Monday. They could only hold until end of day Saturday, and I was a little worried it wouldn't last, there was another couple there looking at it at the same time that almost put a hold on it themselves, but left to check out another store first. It would sit there for sale all day Monday before we would be able to pick it up. So we decided to just pay for it, have it wrapped up and taken off the floor and pick it up on Monday. I did ask the manager if she would take $100 off to make it the same price as the cream one, but unfortunately, since it was brand new to the store and it was a class higher fabric, she had no wiggle room. Darn, but it's never bad to give it a try.
I almost backed out as I was standing there in line. It kind of makes me sick to spend large sums of money. Buying something expensive feels like a defeat for my DIY, make it work attitude. I almost threw up in the car on the way home, no joke, it made me so ill. My hubby thought that was great, he loved hearing that I didn't like doing it! But he was sweet and tried to make me feel better by reminding me we would keep it forever and it was the best one we had found yet... etc...etc. What a good guy. :)
As soon as I got home, I put one in a hypothetical cart at potterybarn.com.
3 piece sectional, box cushions, down blend cushion, washed linen/cotton B fabric, walnut.
And then I felt better.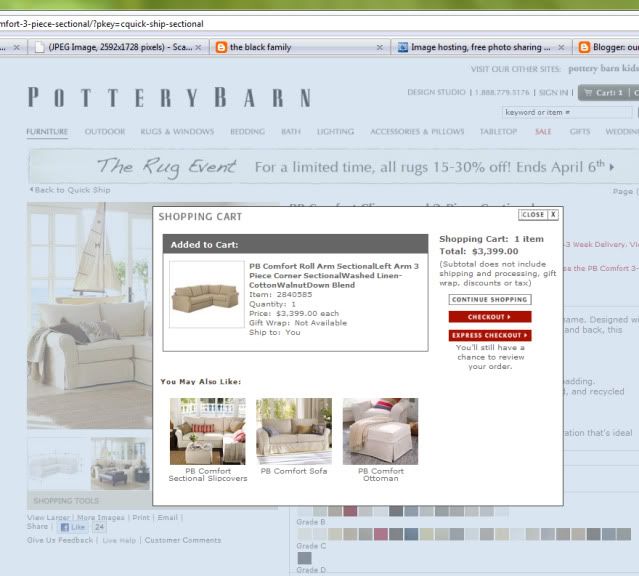 $3,399.00. Mine was $1499.o0 for the exact same sectional. We DO plan on taking great care of it and keeping it forever. I can't wait to snuggle up and have a family movie night on it, mostly I can't wait to just get it into my finished basement! I can't stop thinking about what colors of pillows I'll put on it.
I have to say this: I'm not one of those snobby expensive furniture people I hate spending money. I like getting deals. Most of what I have I found for crazy cheap, I have no problem with buying used things and fixing them up- I do it all the time. I was perfectly willing to buy something used and put my new favorite slip cover sewing lady to work. But we just decided it really was better for us to just invest in one that we would love and use for a really long time. We saved up our money and paid cash for it, I feel good about that, and I do love it... why do I feel the need to disclaim and justify this furniture purchase? Enough. :)
I told my hubby last night
"I hate spending that much money."
and he reminded me
"I love that we just saved some money."
I know he was just saying it to make me feel better.
So that's how I'm choosing to think about it. I saved us some pennies.... right?
We pick her up tomorrow and she sits in the garage all wrapped up in plastic until the carpet is installed, and then you better believe I can't wait to unwrap her and put her in her new home!
If anyone in the salt lake area is looking for a cream pottery barn sectional, the Draper Down East still has that first one, and it's a pretty comfy one too!