I know, it's about time! We finally painted the family room! What was the hold up? Well, for starters the master bedroom isn't finished, but it's oh so close, I'm waiting for something on back order, so what's a girl to do? How about start on something new? Yep, sounds like a plan!
Remember how I have a really hard time deciding on paint colors? No? Well, I do.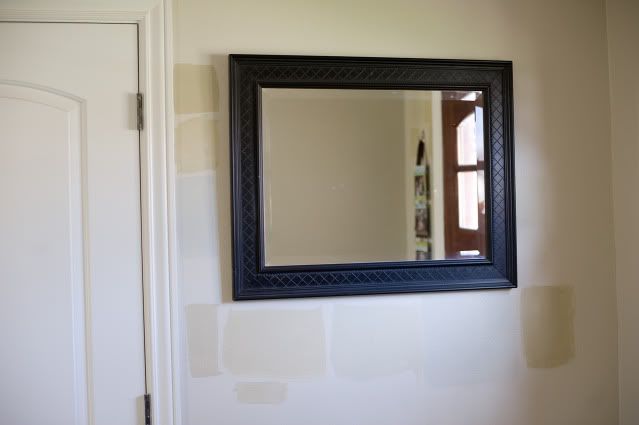 For the last 5 months I've bought tiny paint samples and painted squares on every single wall involved and judged how it looked in every light...
because I'm obsessive like that...
and because I've been known to have
painters remorse
, which is akin to
buyers remorse
, only receipts and returns don't cut it when you just
know
you've painted something the wrong color. It can be very disheartening, I tell you.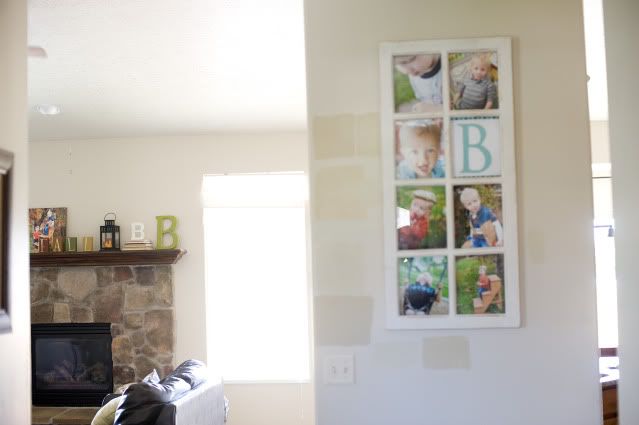 So I changed my mind again and again and then moved on to other things while I let myself have some more time to think about what I
really
wanted, because if I wasn't finding it, it was possible it was because I didn't even know what I wanted.
I wanted a neutral that was warm, but not too yellow-y, had a little bit of green undertone, not the pink undertone that our builder beige had in certain light, something that would wake up the space without fighting with every thing in the room for attention, and something that was subtle and soothing... In the end, I ended up making my own paint color using a paint my neighbor had in her home that I love and a few of my sample paints. I painted it on a piece of a board and then took it to Sherwin Williams a few weeks ago during the 40% off paint sale, and the nice girl at the counter color matched it for me. True Story. If you want my paint color, it's called Mindy Green (she chose the name) and it's at Sherwin Williams. I should have thought up a nice name for it, but she put me on the spot and I didn't know what to call it, so she got creative and named it herself. But don't be fooled, it's really not green. It's more like this...
(just keepin' it real, this is what a family room is used for, FAMILY, so it would have been ridiculous to make him move his puzzles so his crazy mom could take a perfect picture.)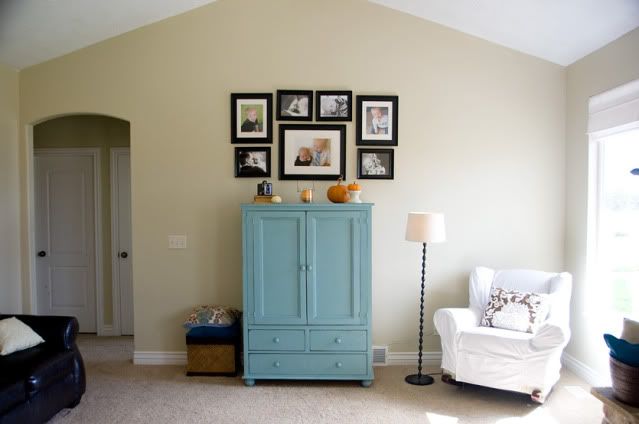 I have more prints that I've ordered for this wall, and I can't wait to show you the wall behind the couch when I get finished with it!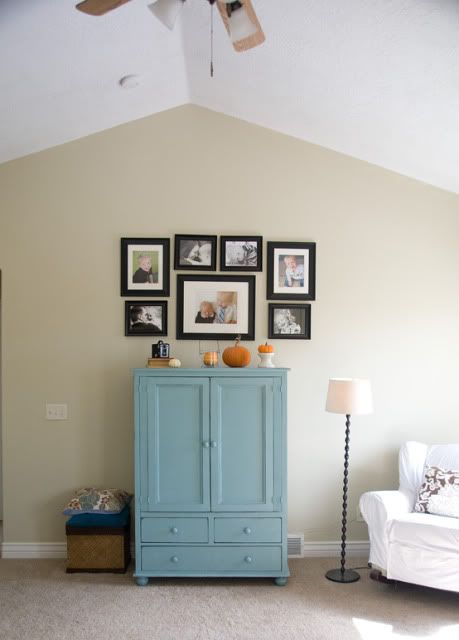 The entry got the same paint. I'm very very happy with how the color turned out. We also painted all of the ceilings white. They were formerly the same color as the walls, and it's just a personal preference, but I like a nice clean white ceiling. White gives the eye a place to rest, and I love the contrast of white trims and ceilings and doors with painted walls.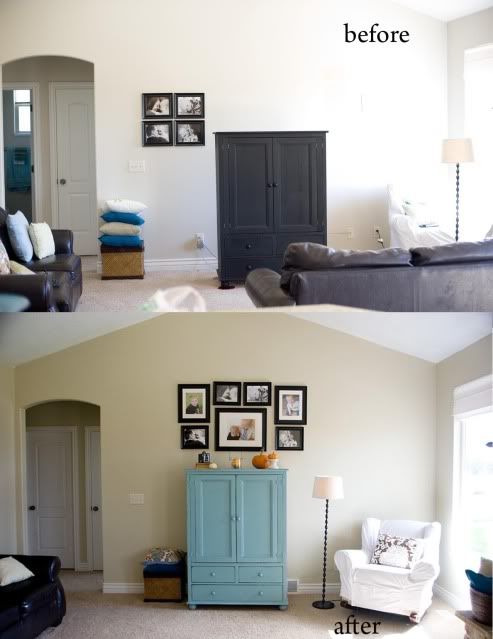 I decided to just work with the height with our vaulted ceilings and make a grouping of photos that take up a lot of the space above the armoire. At first I worried if I went too high with it, but as we've lived with it for about a week now, I find it makes the room seem bigger, because it accentuates the tall walls. I'll be adding to this and hopefully it will be looking more complete.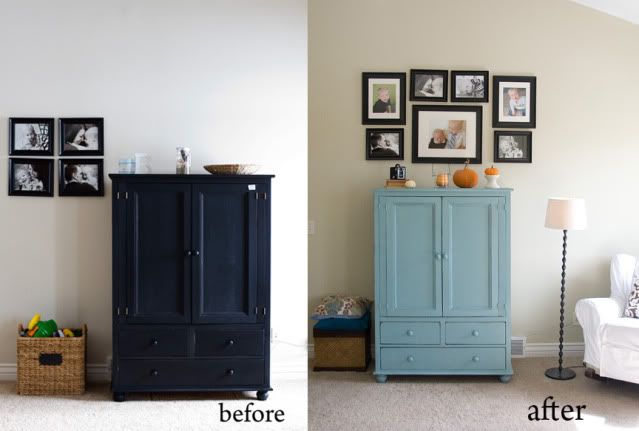 It's not perfect, and I'm not even close to finished, this is round one. I've got plans for the wall behind the couch, that's round two, but it will really become what I have in my head when the basement is finished and these couches move downstairs. Then the fun will begin! [insert evil laugh here.]