I have been a slacker with posting my projects. Sorry friends. I've been really busy with
my photography business
lately. That and the little thing called motherhood have been keeping me running lately! We've had some projects in the works over the last few weeks that have been slow going for that reason, but we finally finished up some loose ends this weekend! Yay for finishing stuff!
First off, we changed out the dining room light with this little pretty. We also put up some beadboard and trimmed it out with a shelf on top. I found a new way to hang my
plates
, and I'm really liking how it's all working.
Here's what it looked like just after we moved in (it will be a year next week!)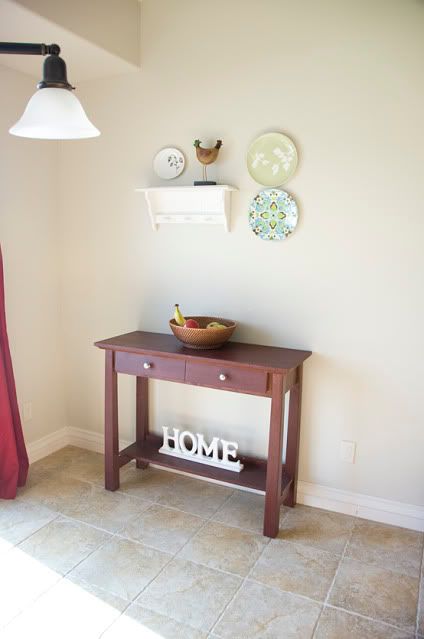 We also hung the new light. It was actually a very economical purchase. I just bought the Moling light fixture from Ikea (about $40) and 5 tiny lampshades that clamp onto the bulbs for about $5 each. that puts me at $65, but then I sold the old fixture on classifieds for $25, so really it was a good change for only $40. I think it makes the space seem warmer and cozier, and I just prefer the look of it a whole lot more. Other fixtures I had seen similar to this one in the past where around $150, but I did find one similar at Lowes recently for about $70(shades not included), so I still think I got a pretty good deal.
Here's a wide shot of what the whole area was like before: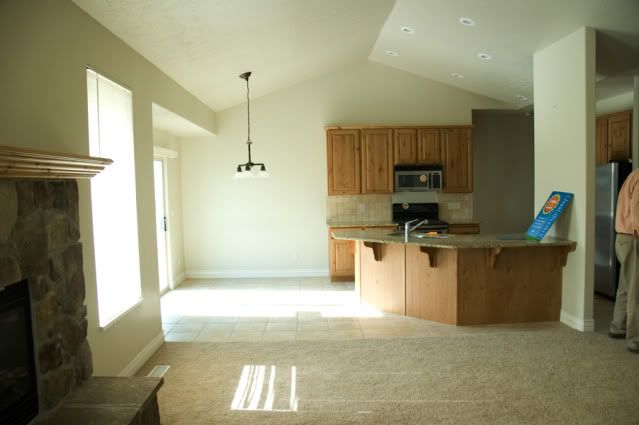 and After: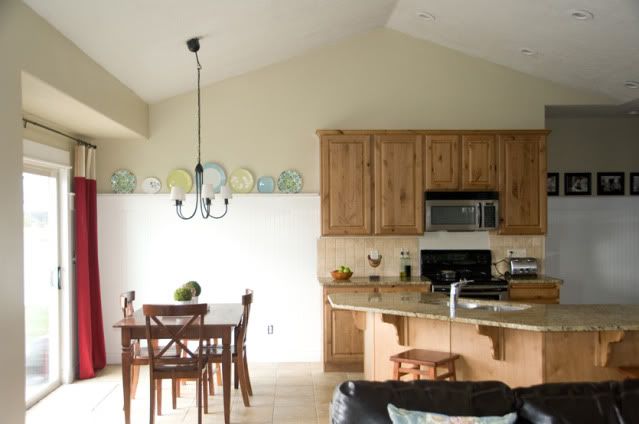 I'm still itching to paint the cabinets, but I will concede that I like them better now. :)
We also took it down the hall. I'm loving how it worked out, it really was a bare hallway before. We added a gallery of 8x10 photo's, some where from the family room before I changed things in there, and I made some additional prints. I love the contrast of the black frames with the white bead board, and it makes me smile every time I walk down the hall.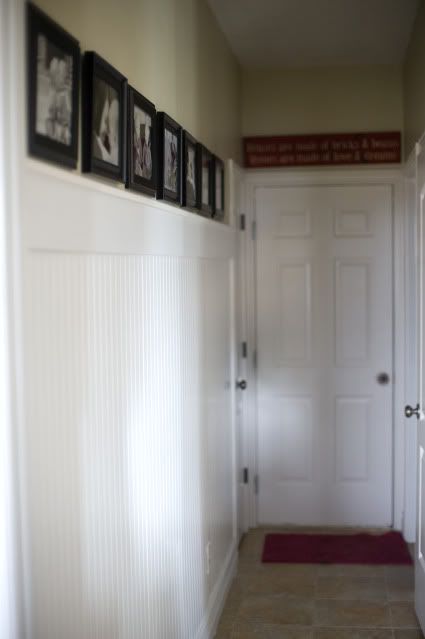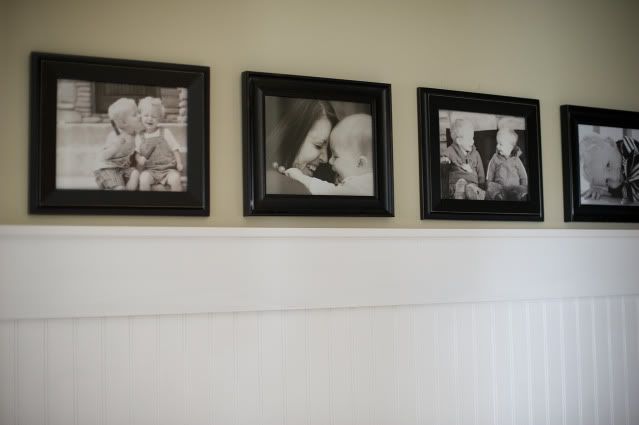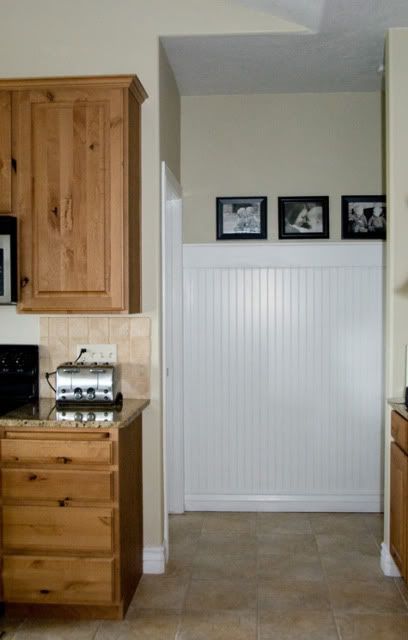 I've been thinking a lot about the evolution of a home. After the kids where tucked into bed and fast asleep, my husband Scott and I had a late night bead board painting rendezvous. While we painted we talked about the progress we've made on this house in a year. We've done lots of projects and changed things to suit our liking, it's been a slow (but sweet) process.
Every change has made this house more what we want it to be. I'm not done by any means. I still have a list a mile long of things I plan to do.
I'm in love with the process though
. I think "real people" rarely just move into a house, set it all up to look perfect one time and then never have to think about it again. Most of us just add to our homes, little by little, some paint here, some trim work there, perhaps a furniture purchase mixed in there somewhere, but it takes us time. My home is still not my dream home, but it's closer than it was a year ago. The point I guess, is that any progress toward the end goal is good progress. And it just makes me happy to be making baby steps toward the vision that I have for what I want our home to look and feel like.
I'll have more about the bead board coming up in the next few days!