I'm back!
Things have been crazy around here! I've had computer upgrades and all kinds of issues going on, my life just seems to be getting busier,and it's summer time and we want to play outside all day long! Blogging is the first thing I let slack when things get busy, so I've been a bad blogger for the past little while, but I still have some fun projects to share!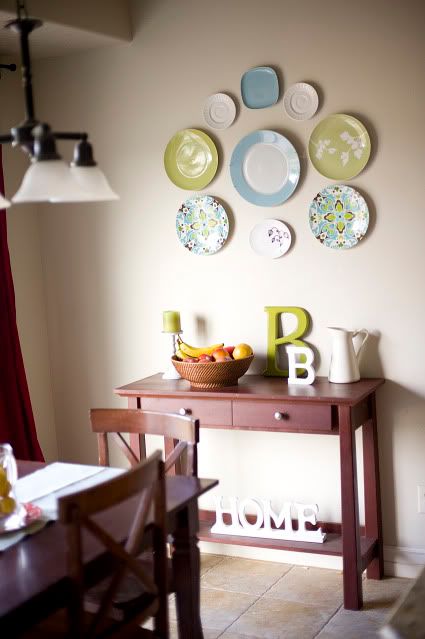 Ta-Da!
I've collected these plates over the past year or so, some from Ikea, some from Target, like those colorful crazy patterned ones that I picked up for about $1.50 on clearance about a year ago! They are probably my favorite, and some I've just had hanging around for a while.
I really have a thing for pretty plates, and I decided it was time to show them off.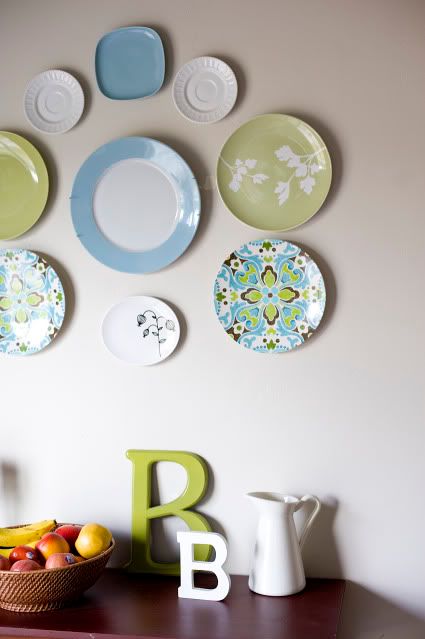 As I find more that fit with my collection I can just add them to the wall.
I borrowed some of my things from the mantle for the table top, like the B's and a candle stick (I took it all down for a project I'm doing with the mantle so stay tuned, so far I'm loving it and can't wait to tell you about it!)
I used a combination of plate hangers and simple 3m mounting tape to attach them to the wall, the heaviest plate was the large blue and white one in the middle. She got the special treatment with a heavy duty plate hanger, believe it or not some of these are plastic and very light, so they only needed the mounting tape. Just make sure you've got it where you want it though, it may or may not remove paint when you take it off... just sayin'.
The challenge with this little spot is that the cabinets and countertop are to the right and kind of stop abruptly and I had originally put plates and things on the top of the cabinets, but I never really loved that and didn't know why. I finally figured out why... It made that side with the cabinets look so heavy that it just wasn't balanced enough and the side in the dining area just needed more of a focal point. (I'll have to take a picture of the whole wall, I realised just now that I don't have one, so you'll have to imagine.) This helps that though, and I think I'll keep the tops of the cabinets clear for now while I decide what else will help. I'm thinking I might try to find something different than this console table. It's great, but maybe I need something bigger that can balance out that side a little better. Here's the before of this spot: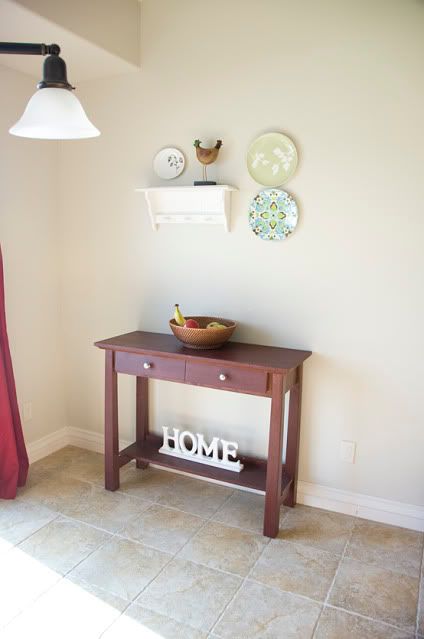 That dinky little shelf just wasn't doing anything for that spot. Again, I'll have to find a picture with the whole wall, but you get where I'm going, right?
Who knows? For now I'm so much happier with this. It's a lot more colorful and I love being able to see my collection all in one place.
It was inexpensive and easy, but it adds a lot more color and interest to the dining area.