I'm finally finished!
One more project to check off the list, that's always a
great
feeling.
and of course I couldn't leave it naked for long, I had toss a pillow and throw on it before I even had the thing hemmed. The throw is kind of hard to see with the sun shining on it, but this is what it looks like: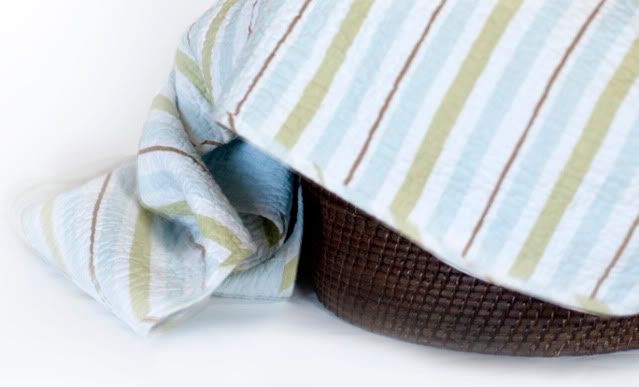 I think it may have a permanent home right there in the cozy corner with my "new" chair.
(the pillow is made from a place mat I found at pier1 a little over a year ago.)
I've had this nice upholstered rocker since right before my first little fella was born. It has been an awesome chair. It's been in the master bedroom for most of it's life, and I spent many a happy time blissfully nursing my babies in it. It was a floor sample, so we got a killer deal on it, but it was never my favorite fabric and I felt like it was hard to work around. (it was kind of a light sage green with white flowers on it.) I didn't hate it, but I didn't love it.
Now I love this chair more than I ever have.
Yep, it's white.
Yes I have two small boys.
No, I'm not worried about it one bit.
The fabric is 100% cotton twill and extremely washable/bleachable/OxyClean-able. My theory on dirt is why hide it? I would rather see it and wash it out. Having dark furniture wouldn't make it anymore clean... It would just be trying to hide it(even though I don't really believe that works.)So I'm prepared to be washing this baby as needed.
We've been contemplating couches... right now we have dark brown leather (or pleather? not sure.) couch and love seat. When our basement is finished they'll be headed downstairs and I'm thinking I probably want to go with a white slip covered couch and two colorful side chairs would replace the love seat... but for now I'm happy with how this chair fits with what I have and I'm sure it will look great with where this room will be going later.
It made a huge difference bringing this chair out of the bedroom and into the family room. My boys want to sit in it and look out the window with me in the morning, they love to read in it and be rocked in it again because it's right there where the excitement is, in the family room. The room just feels so much cozier with it there.
I'm an impatient sewer. I just want the final product, so it's really hard for me to force myself to slow down and be careful when I'm seeing the finish line in sight. I would consider myself an amature seamstress at best. I don't sew clothing, I hate following a pattern, and I'm happy if it's not perfect, but just "good enough". I would rate this as a medium difficulty level project.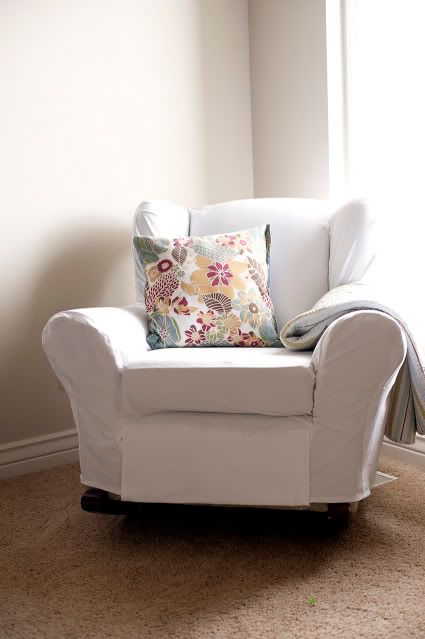 If you look close you're bound to see imperfections... like how after I got it all hemmed up and finished I put it on and it was about an inch shorter than I intended. Oh well. If it bugs me bad enough I'll add to it with a ruffle or something to make it look like I meant to do that, but I don't mind showing it to you like this.... mostly. :)
Here's how I went about it:
* buy and wash about 5-6 yards of 100% cotton twill fabric (JoAnn 50% off coupon made it a little more than $3/yard, less than $20 total.)
* cut and pin pieces around the chair, basically making it from the inside out
* sew!
About half way through sewing I realized I didn't even cut the fabric on the bias... oh well! I don't think it made a difference, but maybe I just don't know what I'm talking about so ignorance is bliss. I was so over it by then and it couldn't be bothered with, so I just kept on chuggin'.
The hardest part for me was seeing how it needed to fit together when it was off the chair, a few times I had to put it back on the chair and re-pin to make sure I was sewing it right.
Here are some gals who can tell you what to do a whole lot better than I can:
the nester
Just do what they did and you'll be all right, promise.
I pinned it all together in about an hour, and then three weeks later I sewed it and finished it on a Saturday night, probably 2 hours of sewing and adjusting total. If you know what to do it's really not a bad little project.