I felt like something just wasn't right with the fireplace from the first time we saw this house. Pretty sure it's just a matter of personal preference, but the Hubbs and I just don't love the light wood so much... I don't really know why, and it doesn't bug me when other people use light wood, I just don't like it for us. That's okay, I think.
Here's the before:
And the after: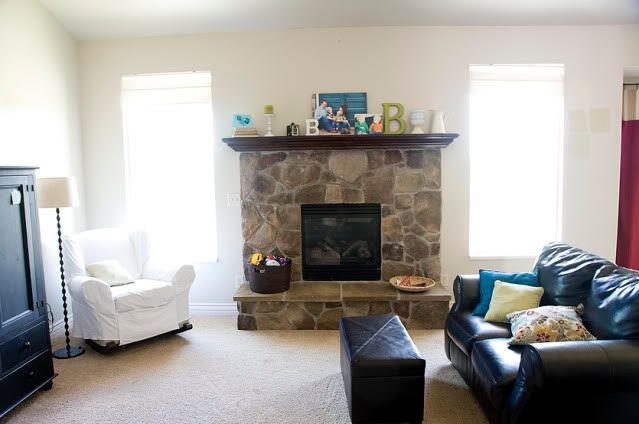 I like it so much better! I don't know why I put this off for months, it wasn't nearly as involved as I imagined it would be.
All I did is sand it lightly (very lightly) and then masked off the area around it so I didn't end up with walnut blobs on my walls. And then stained away. I used Minwax Dark Walnut as the stain. It took like a week to dry, so I probably should have sanded it more before staining so it could soak in better (according to my husband) but I'm impatient and just wanted to see the result. :)
An hour or so of actual work and 7 days of drying later, this is what we ended up with. I'm happy with it. Stain isn't nearly as intimidating as I thought it was!