Can you imagine my excitement when I found this baby at the D.I.?!? (utah's version of salvation army or goodwill)
I scooped it up and carried it home for a mere $7!
I couldn't wait to show my husband, Scott, when he walked in the door from work.
He stared at me in kind of a funny way.
He tiled his head to the side.
He said "Um... that's
nice
,Sweetie... I can imagine you have some kind of big plan for it, right?" Then he smiled at me the way he does when he's thinking I'm kind of nuts. That's why I love him.
Anyway, this
brass and burgundy
lamp had all of the makings of a shapely classic, it just didn't know it yet. I planned on making a metal finish like the one I put in my bedroom idea board: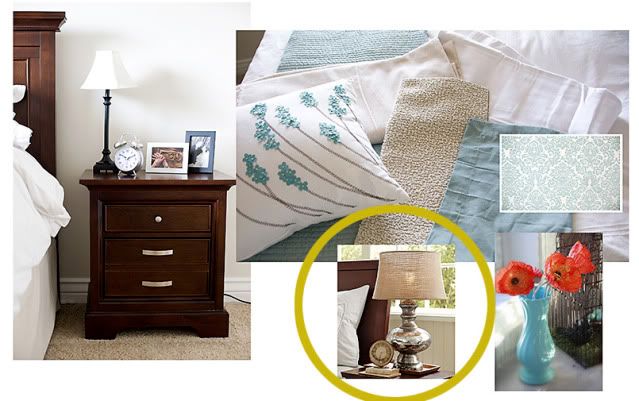 Mercury Lamp: Pottery Barn, $259 (I don't think I would ever spend $259 on a lamp, I'm just not that kind of gal, but I do like it. a lot.)
I even practiced with two kinds of spray paint and came pretty close to that look, a very similar finish, but when I primed this baby that all changed. It looked so good in white that I lost my desire to do anything else with it, so I sprayed a nice coat of glossy white (rustoleum makes a line that has an upgraded sprayer, it went on super fine and left a perfect finish, not a single blob, smear or run!)
I found the shade at Target, I think they work quite well together. It's different than I planned, but I love it more than I imagined!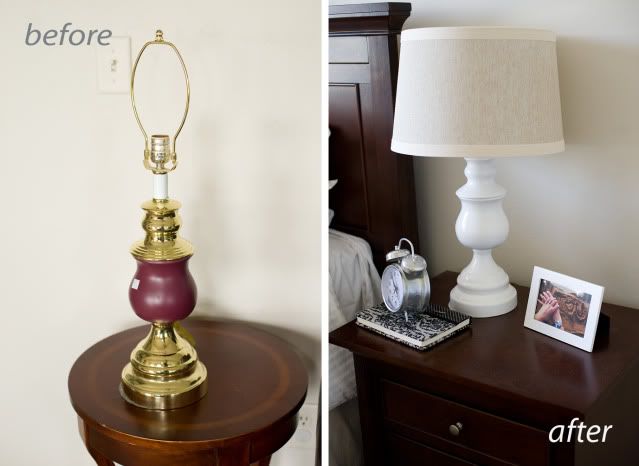 Can you believe that brassy and burgundy thing turned into this?? Spray paint, people! Love it!
I liked it so much I carried it around the house, trying it out in various places.
It's possible that I'm slightly neurotic.
I for sure want it to go in our bedroom, but I liked it on my (new!) black table in the living room too...
time for a trip back to the D.I. to find another one, maybe I'll do a blue one for my living room!