I found another great curvy lamp, it's almost identical to my
last one
, except this one didn't have the maroon center that the other one had, it was completely brass.
I did take a before picture, I just can't find it in my files right now, so this will have to do.
I used regular white primer and Krylon's Ocean Breeze
and this was the result:
I found the shade at homegoods, and I love it for it's texture, it has a nice vertical ribbing pattern, I'm not sure if you can see in the picture, but it was cheap, and it's well made. I think it's perfect for the lamp!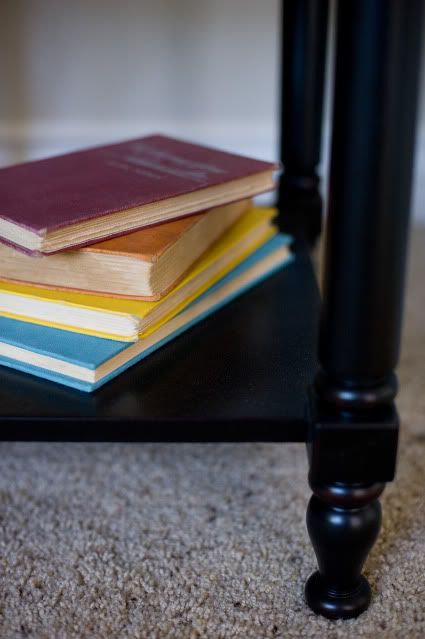 Another great thing you may notice gracing the side table is this great stack of books I brought home from my mom's house. She has a shelf full of great old books, and I've raided her collection a few times, I don't know how I missed these beauties. I love the colors together and it's got me thinking about adding some muted reds, bright yellows and pretty oranges to the living room and the rest of the house.
We've done some major projects outside, and I can't wait to get them finished... I'll be sharing them soon, and my master bedroom is so close to being finished it's making me crazy. Maybe I'll just have to show it in progress.
Happy Summer!