I've had some email questions about the art work in my kids rooms and how we did it.
I love these little paintings that my boys made almost a year ago.
They are a fun meaningful piece art that I'll treasure forever.
Summer time is a good time for this activity!
Here's the post from my family blog with the detials:
I put the boys to work making finger paintings (I think it was Tuesday, the last nice warm day. I think they really enjoyed themselves. I learned some things about their art making preferences...
Some people like to paint their favorite toy, Thomas. Poor Thomas had to have a wash down, just like the little painters when this activity was finished.
And some people like to paint with their diapered bottom. Owen for example, came up with this revolutionary technique...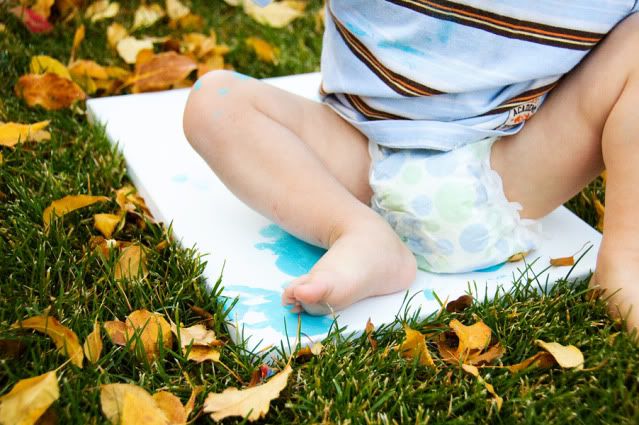 The Result:
Owen Maxwell Black and Carter Scott Black originals!
(Owen's on the left, Carter's on the right.)
Complete with original artists feet and hands paintings as well, to hang in the bathroom for kicks... because it thrills me beyond anything to see their little hand and footy prints.
If you look close you may even see the pretty leaf in the bottom corner that Carter stuck to his. It dried that way and it actually looks pretty cool!
Materials:
acrylic craft paints or kid friendly paint(washes of with soap and water)
artists canvas. (I got mine at JoAnn when they were 50% off)
I would do it in a big area, like outside on grass where it won't matter if they make a mess.
I did put them directly into the tub after this. :)