It was meant to be... or something like that. :)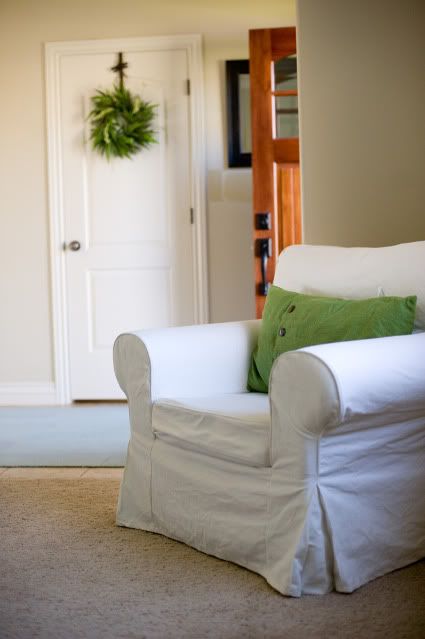 Over the weekend I took my oldest boy to Ikea with me. I had a list in my head and I was only going to be "a few minutes."
I quickly gathered what I needed and on my way to the check stands decided to take a gander in the as-is section.
Even though I
never
get lucky there.
Until this time. This baby was waiting there, just for me. A former floor model, she had been marked down about 40%, but amazingly doesn't have a single mark or sign of wear!
Original price: $249.
Mindy Price: $159. WAHOOO!!!
But I left it there while I took my little guy home, We have a roomy car, but I was pretty sure I couldn't swing it with the carseats and double stroller that where already in there.
I came back and.... IT WAS GONE! I was so sad! For some random reason while I was talking to my hubby on the phone, I decided to hurry and walk through the showroom again and maybe see if any more would be going down...
... and what to my wondering eyes should appear, but my slipcovered chair! on a flatbead cart (thingy).
I asked a nice Ikea Employee if someone had been holding it, or if it was still for sale and she told me that she had it on a list to bring back up for a different display, but it turned out to be a typo so she was taking it back down! Oh baby, I was in luck! I told her I would take it off her hands, and she pushed it to the register for me. Then my little chair and I headed home to play house. :)
Hubby thought I did a good job. He likes it when I save pennies. :) And he thinks the chair is pretty comfy too.
I promise it wasn't an impulse buy, I've had one on my "furniture to buy" list. I have some major furniture changing coming in the near future. When we get this basement finished everything is moving around, so this worked out just perfect for me! I'm still on the hunt for a smaller chair for the master bedroom, and I still plan to re-upholster my other cute chair if I can ever commit to a fabric, but we'll be needing many more great chairs, so it was a good find!
FYI, now is probably a good time to check out the as-is section at Ikea, at least at the Utah location, they are changing the floor displays!
just sayin'.