I'm a Pottery Barn Junkie. It's true. If I had endless fundage and no sense for bargains I could probably furnish most of my house with Pottery Barn merchandise and be completely satisfied with it. I can't say that for most stores.
I couldn't do it at RC Willey for example. If somebody said go choose whatever you want and decorate your whole house, I don't think I would like enough stuff to really do it.
It's just not my style.
Pottery Barn, Ballard Designs, Crate and Barrel, Bassett, my favorite local store Down to Earth... That's my style. It comes with a steep price tag. And I'm not willing to spend that much. (and as a post edit Down East Home as I'm reminded by reader Kim... can't believe I forgot to mention it! And those prices I can handle! Mostly.)
I've learned how to get the style that I want for a price I'm willing to pay. Here's a recent example.
We needed an armoire for our family room. Our needs where pretty specific. I needed to get the TV and blu ray player up and away from little hands, I needed one with doors to tuck back or fold in so no one bonked their head, or pulled on the open doors, etc. I wanted it to have farm house character and style, I wanted it painted, not wood tone. We needed drawers for media storage. I wanted blue or white.
I wanted this one: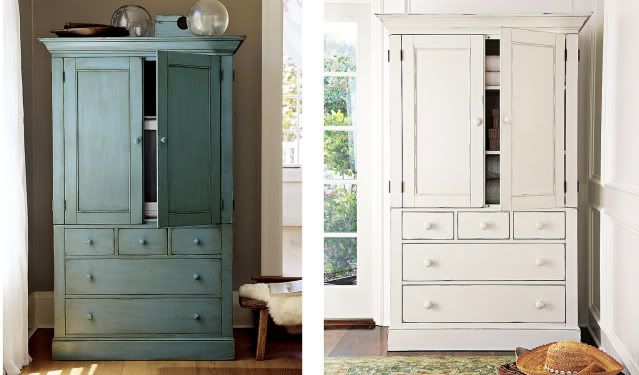 Pottery Barn price tag? $1,199.00.
gulp.

So I improvised. I conceded that I wasn't going to find that exact thing. And that I was willing to paint and distress my own piece if I could find the right shape. I set a goal price of about $300.
I found some that where a good shape, but the doors didn't tuck in.
I found one that was so cute. A mix of country and farmhouse, but it was too big. I almost bought it anyway. It was $200 more than my goal price and would have been a splurge. Well worth every penny, but a splurge. I decided to hold out for "the one."
I found one we loved. But it was $675 and they wouldn't come down on the price, so I walked away from it.
Two months of armoire shopping and finally I found this one:
I like the round feet on this one even better than the PB version.
I bought it intending to paint it right away, but for now I don't hate the fact that it's black and I might just let it be for a while until we move our brown leather couches downstairs (when we finish the basement) and I choose a new couch for the family room.
The price tag says $810. But I didn't spend close to that.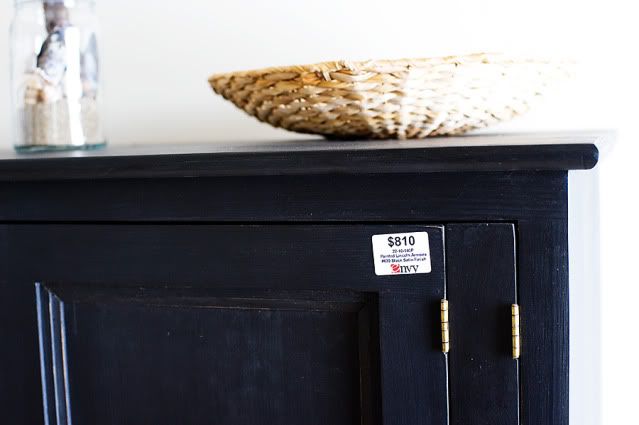 It was a floor model at a decor store that caters to interior designers. They have a lot of fabric swatches for custom upholstery and this was holding all of the swatches. It had never been used in any other way, was still basically new, and I found out that it came from a distrubutor that maufactures PB items. No wonder I liked it so much!
It's a quality piece. The back isn't that flimsy particle board stuff either. The inside has these gorgeous wood slats, very rustic. And the drawers are on smooth rollers, the kind of suck in by themselves when they get close to closing.
My price? $300!
It pays to be patient and keep searching for the right piece at the right price. You just have to know where to look. The store posted an ad on KSL classifieds, otherwise I would never have gone there.
Tips for finding furniture that is refinish worthy:
Look for solid wood, no veneers. Look at overall condition and stability of the piece. Look at craftsmanship. Does it have special details or something that makes it unique? The last thing is price. Is it worth the price plus the work and cost of the paint? In this case, YES!
Now I just need to decide if I want to go robins egg blue...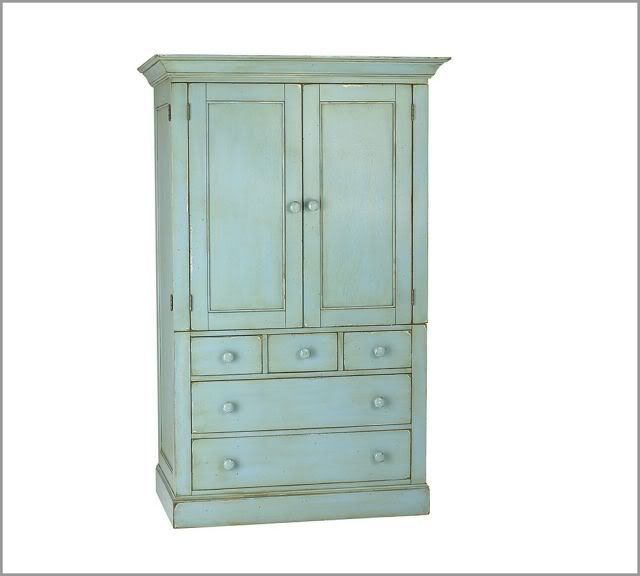 or classic distressed white.
Coming up: Part Two. How I got a killer deal on master bedroom furniture.

update: see my finished product here: