New front door before and after
Outside:
Inside: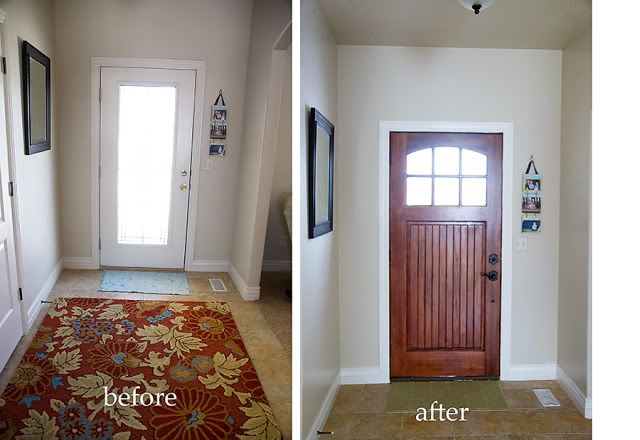 I didn't get rid of the rug, just moved it to the living room while construction is going on in the basement... it was seeing a little too much traffic and a little too much dust. It looks so good in the living room that I just might leave it there though, thus meriting another rug purchase? For now the simple green one is doing it for me though.
The process was like this: Scott and his dad picked the door up last week, an installer came and cut the old door out, some stucco and some mortar had to be removed. It took him 5 or 6 hours to install it. I'm so glad we didn't attempt to do it ourselves. Then we finished it on our own. We applied a wood conditioner, then stain, it was something with "chestnut" in the name, made by minwax. Wipe off excess stain. Let dry for 8 hours. apply first coat of polyurethane. Let dry for a whole day, sand and apply second coat. Let dry for another day. Sand and apply third coat. Let dry. Remove protective plastic off glass (it was all I could do to wait for that part and I started removing it when the door was still wet. I'm impatient!) Stand back and marvel.
It was a lot of work, but so very worth it. We've already had lots of nice comments from neighbors, so I guess we did the right thing. :)
When I first saw this house on the MLS, the first thing I thought was... those shutters need to be a different color than the stucco, and that door has to go! We painted the shutters black, just because we already had the paint, but I felt like it wasn't quite what I was going for. When we decided to stain the door, instead of painting it (painting it seemed like a crime, even though I really wanted a red door.) we also decided to make some stained wood shutters that will match the door. It's going to be a spring project, but for now it looks lots better.
We've been in full project mode around here, and I love it.
I love the difference that small and large scale changes can make to a home.
This house was crying out for a new door. (Whoever chose that door for this house was kind of off. It just didn't fit the house.)
What I love is that we are slowly bringing in the influences that make this OUR home.
A little bit cottage, a little bit farm house, a little bit country, a little bit craftsman, a little bit french country... But very cozy and homey.
A lot less suburban rambler.
'Cuz we don't live in the suburbs anymore. (And love it!)
one more time... just because I can't get enough...
roll that beautiful bean footage!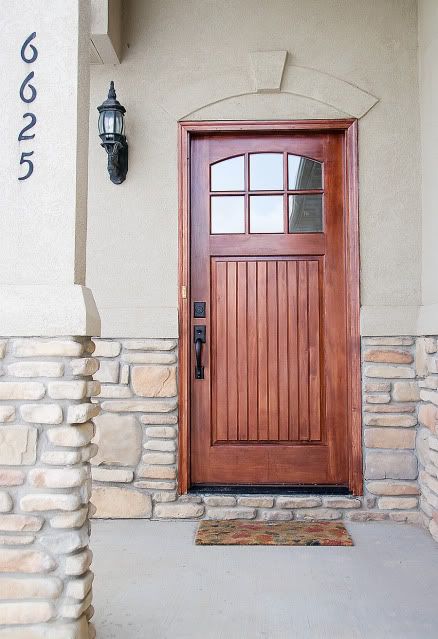 ahhhhh....
much better.
And I already have phase two planned:
Carriage lantern style. I think something like this will work really well for the porch light. And on the sides of the garage. And the patio. It never ends. One improvement inevitably leads us right into another.
But for now I'm just thrilled with my door.
I'm in home beautifying heaven!
Like it?