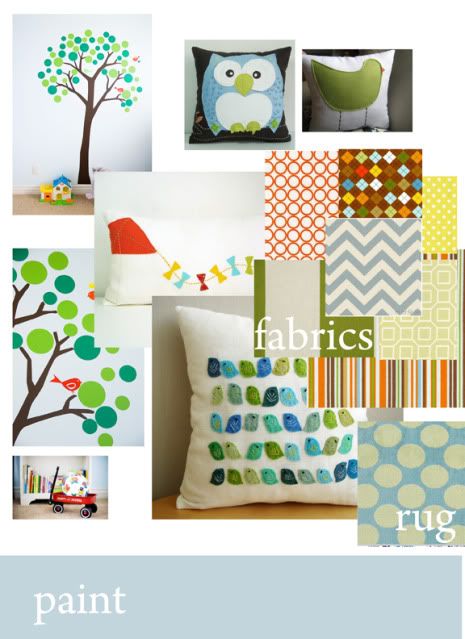 We found out a few days ago that our little one is a boy! He has two big brothers who are thrilled beyond words and can't wait to meet him and start loving him!
I had a lot of fun last night creating this little idea board for our little fellas room. The paint and the tree will stay the same, I'm planning to add in a lot of color with other things, bird pillows (etsy) to go with the birds in the tree on the wall, I found the little kite pillow(also etsy) and plan to make one similar to sit on the toy box under the window, and lots of bright and happy fabrics (tonic living and hawthorne fabrics mostly). I know it looks like a random sampling of fabric, but I want it to all go together without looking straight-from-the-store matchy.
This is just the first round of ideas, a jumping off point if you will, but I'm liking that it will be a bright fun place for him to rest and play. I can't wait to get started! (After we get this basement out of the way, which is making huge progress of late !)
It's a lot of the same colors as
Owen's previous room
, but now that he's been moved in with big brother, this room is the toy room until we get a new one set up downstairs. I really wanted to keep the tree, but we'll change it up with new bedding and some new colors to make it his own little place.