I literally skipped from the mailbox the other day. I was giddy when I opened it to find that POTTERY BARN had finally come!
The fall PB kids and PB teen catalogs had been delivered! I immediately started thumbing through. A few pages jumped right out at me: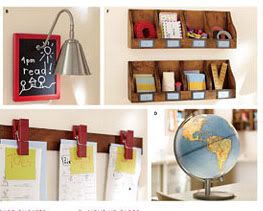 How perfect is that?? I love this room! I think I want to add some hanging globes to the big boys room now, and what kid wouldn't love a playroom all filled with fun colorful globes hanging from the ceiling. But what I love most is the color. Look at all of that color, and with the warm wood tones and subtle pops of red. LOVE!
I guess I have a thing for globes...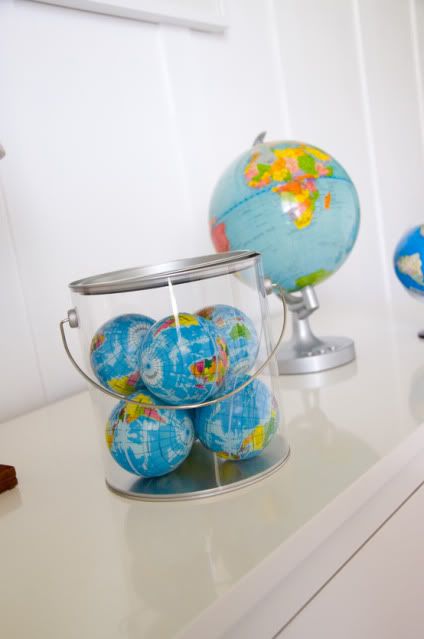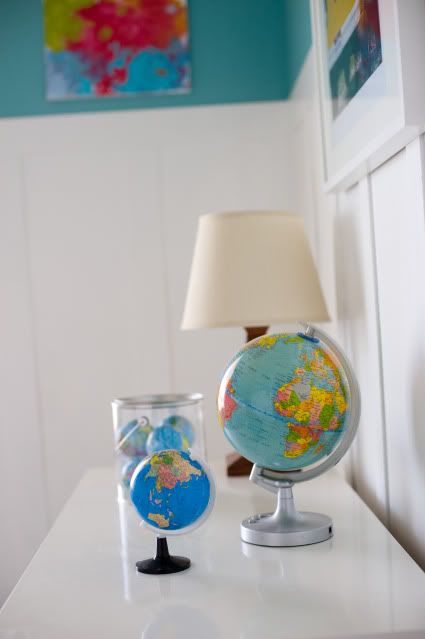 I've had a lot of email requests for my color advice lately. So I've really had to think about how to describe my color style and what I'm going for in our home. The best way I can describe it is lots of white woodwork and trims, with
blues, greens, grays and earth tones in broad strokes with pops of bold colors like reds, yellows, browns, oranges.
We had a red wall in our first house and I felt like it suffocated me. I LOVE red, I just like well placed small amounts of it. It's just a personal preference thing, but I've noticed I can handle just about any amount of blue or green and it makes me feel calm and serene, and it's just what soothes me, but it definitely benefits from red, yellow and orange to wake it up a bit and make it fun. What I tell people is to collect pictures of rooms and ideas you love, and look at them all together and decide if they contain any similar colors and styles. You'll see what you gravitate toward and quickly get a good idea of what your style is. When it's time to paint or make furniture purchases, you'll already have an idea of where you should start.
I guess my color preferences are a lot like a globe or a map, blues, greens, grays, earthtones in broad strokes, pops of brighter, bolder colors... maybe that's why I like them so much.

A globe or map can look great in any room. How about a kitchen?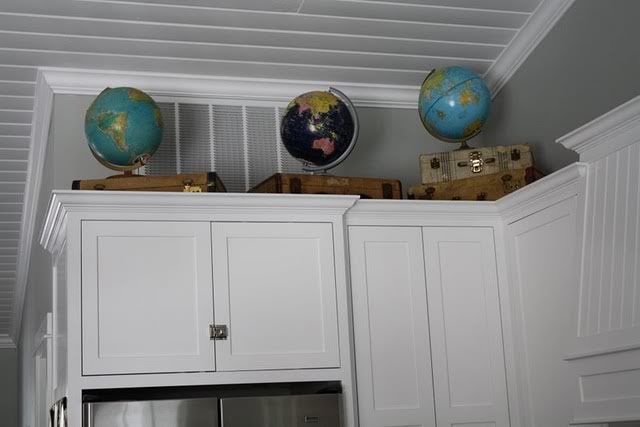 Yep! I love this creative placement of globes. I never would have thought to put them in the kitchen, but they look so good there!
(image via the pleated poppy.)
All of this thinking about maps and globes reminded me of something I saw a while back.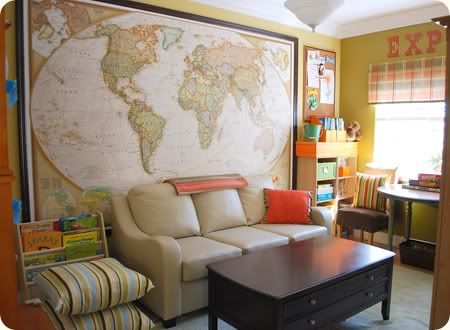 (image via censational girl)
And I decided our basement is going to look great with a HUGE map like that one. Of course I'll put my own spin on the whole thing, but I am so inspired by this room. We're moving our brown leather couches down there as well... tell me you can see it!
Speaking of the basement, something really great has happened down there over the past two weeks...
DRYWALL is now DONE!!!
We are so excited about the progress down there! I'm starting to see it in my head and it's going to be great! We wondered if we would ever make it, we're kind of tired of being in construction mode forever... we just finished our last basement a little over a year ago, just to sell the home and start over, but oh well. We learned a lot the first time around, so this one will be even better.
(see our last basement
here
)
I think one of the best decisions we made was to open up the stairs, here they are in the framing phase, before the wall came down:
Huge difference, I say.
We still need to do some work on the stairs, the balusters for one, but paint, trims and doors are up next! I can't wait to add an extra family room, 2 bedrooms, an office, a storage room, a play house, and several closets! It's going to be like a whole new house! And I can't wait to put a little of the world down there via map mural, because we're all over the globes (and maps)!