This fireplace has been my Nemesis
. For real. Nothing I've put up there has seemed right. We have 9 foot ceilings, and the fireplace goes up really high, so even for us tall people (I'm 5'10", my hubby is 6'2") the mantle is an awkward height. Most people have to really look up at it to get a good view of the mantle. My other gripes with it are: I feel like the wood is too light, I'm thinking of staining it the color of my front door... and I feel like the stones are too dark, if I had chosen them I would have gone lighter... so basically it's nothing I would have picked, but oh well. It's not horrible and I finally found something that works.
I can't leave a mantle alone for long.
So this may or not make it through spring, but for now, it's working.
I shopped the house for most of this, the old books are just some I've collected over the years, the blue hand print heart card is left from our valentines we made for grandma's this year.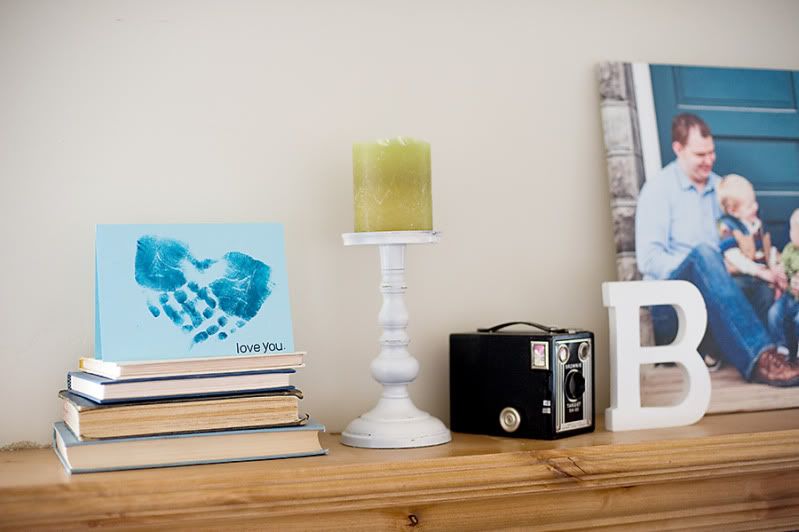 I had the little white B already, just spruced it up with a new coat of paint, and same with the candle stick. It was brown in it's previous life, and it just wasn't doing much for me. The vintage camera was a gift from my grandpa. I've played with putting it in various spots, but I do like it here.
I tried the big B and the smaller B together, but wasn't sure if I loved it, so in the end I split them up.
The canvas prints just lean against the wall. That way when I'm ready for a change I don't have to deal with patching a wall, and I know I'll want a change sooner or later, I really can't leave a mantle alone for very long.
The green B started out black. I found it at Kohls on sale, I can't remember the exact price, but I had a gift card so it was free to me, eh? (It was around $10 or so.) I painted it with my fav Krylon "ivy leaf" the same I used for my containers on my porch.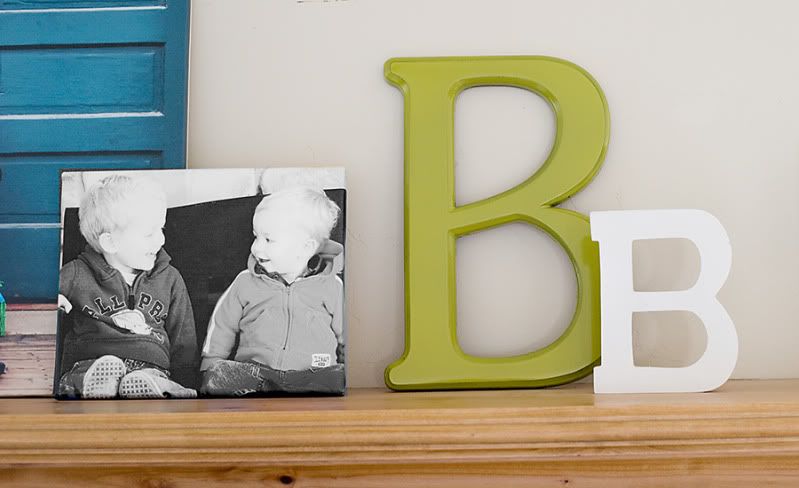 When I saw this vase at Target for $12 I had to snag it up, I knew it would work perfectly, and when I'm tired of it on the mantle it can go in a lot of other places in the house. Turquoise is, of course, my favorite color. I have little bits of it everywhere.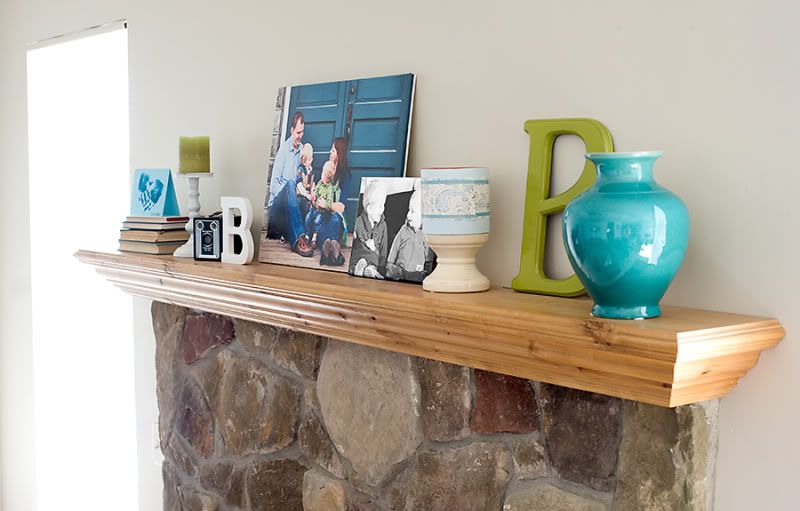 I staggered things the best I could, the mantle isn't super thick, but it's deep enough.
A few things we have on our project list include trimming these windows, which really are great, but just need more attention, and I'm replacing the blinds with roman shades that my MIL is helping me make. Then there's the painting... and that's just this room... I have a project list long enough to keep me busy for the next 5-6 years here!