Progress news! We found the prettiest bamboo about a month ago that was exactly what we wanted for the office floor... the bad news- it was out of stock and it comes from China, so it took about a month to get here. The good news is it came in this week and Scott got right to work laying it...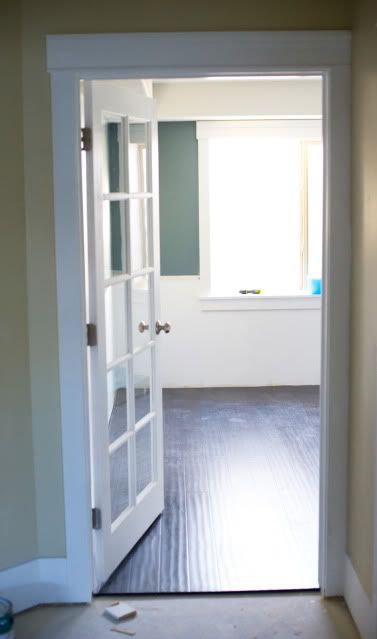 It's beautiful! Slightly distressed and hand scraped, we love it! He's done a great job putting it down, all that's left are two rows you can't see in the picture on the far right of the room and the closet.
The other good news is that the carpet installer came and got an official measurement yesterday. As soon as the stairs are done we're ready to get the carpet installed. We're waiting on a few stair parts to arrive and then we should be good down there. If all goes well, we're looking at maybe another week or so.
WAHOO
!!!
And now back to the pillow talk...
I was so surprised to see the poll so heavily weighted to one choice. Not surprisingly, it was the one we liked the best too...
Yep, it's the orange, blue, brown combo! Reassuring to know a lot of you liked it too! I still like those bold red stripey pillows a lot, but might have to find some other place to use them. :)
I designed the red/blue/bold stripey scheme first, then for fun threw that orange one together. I was surprised when we both really preferred the orange. I wasn't really thinking we would go orange, but it works beautifully with that shade of blue, it's nice and warm, a little unexpected and just the dose of fun that our young family needs.
As for the votes, we had a little problem with our poll... for some reason it re-set itself yesterday, like started over at zero sometime late morning, so I don't know the exact number of votes, but I can say that when I saw it Wednesday and Wednesday night, B was winning by a lot. We were somewhere around 50-
ish
votes and B was winning with about 70% of the vote. This morning we're at 44 votes- 8 votes for A, 28 votes for B and 11 votes for C. Wednesday it looked like A was in second place, so I really wish we had the numbers for all of the days combined, but it's safe to say that choice B won with between 60%-70% of the vote for both of the days that it was counting.
Some of you mentioned you wanted to know the choice I didn't like at all... for me that was choice C. and it wasn't that I didn't like the pillows, because I really like the more rectangle pillows and the monogram pillow of course as well, I think it just didn't appeal to us because we're so "blue and green" everywhere upstairs in our main living area that I'm trying to do something different in our space in the basement. The blue is about the same blue I've used throughout the house, so it ties it in with the colors upstairs, but the orange is something new, and we like that!
Now I've got to get those fabrics ordered and get to work! :)
Thanks for humoring me and playing along! It was fun to hear from many of you, and fun to see what you prefer too!