I guess when I finally make a decision, I do it thoroughly. After figuring out what to do with that one
problem wall
in the family room, it was fun to take care of the other wall as well.
I start to feel like I don't have enough walls for all of the pictures I want to hang. I decided that since that other wall had a lot going on with the photo ledges and lots of pictures, I would keep this one clean and simple.
I went with three large prints (these all look like canvas, but they are different products that I like better, you don't loose sharpness like you do with canvas.)
The layout is simple, I went with two 16x20's and one 20x24. I wanted it to be as simple and calm as possible, so I went with black and white to unify all three prints.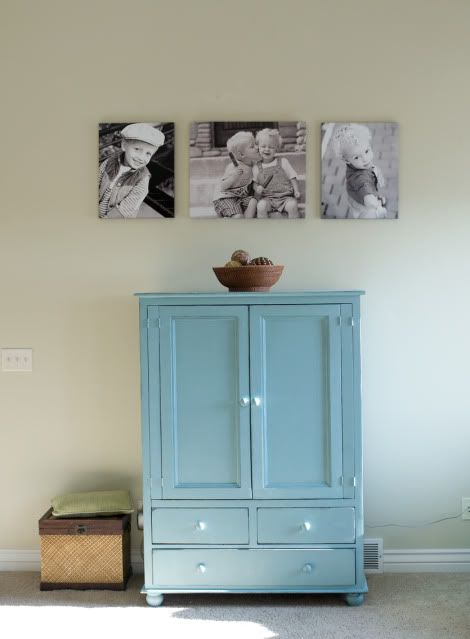 I love the way it looks with the painted armoire.
This is about all I'm going to do to this room until we get those couches moved down stairs and start over with new furniture upstairs. Speaking of the basement, trims, stairs, playhouse and carpet are all that we have left! Hopefully the materials for trim work get delivered this week so we can get started and we'll be that much closer!
Post Edit:
sorry about that, I didn't mean to be vague, but I've had a few questions and emails about what these are!
The middle one is a gallery block from a company called Artsy Couture (unfortunately, professional photographer's only.) The two side images are stand outs, available from any professional printing lab, contact your photographer for information on those. I've never seen them at consumer grade photo labs, although mpix might carry them for regular consumers.