One of my favorite things about the new year is cleaning out and starting fresh. One of my big goals this year is to organize every part of my life, a big part of that is my home, it's usually pretty clean, but I have some secret messy spots in closets that I am continually cleaning out, only to have them get all messy again. I've been working on some of these lil' areas, and I'm happy to report, it's going well.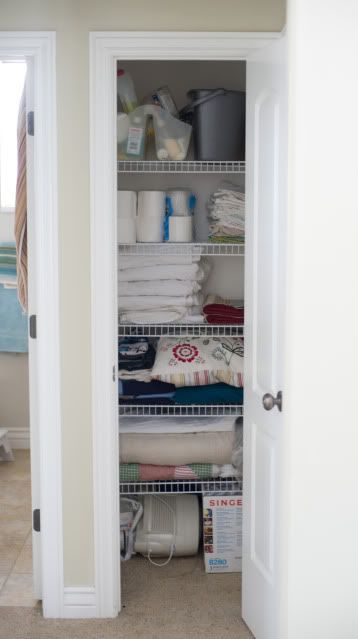 I tackled this closet last weekend. I forgot to take a before picture, but trust me, it was bad. Like quickly-open-the-door-and-get-what-you-need-and-slam-it-shut-so-nothing-falls-out-on-you bad. It's a lot better now. Master bedroom closet is up next. Wish me luck...
Speaking of the master bedroom, my second night stand finally came in around Thanksgiving, and I finally found the perfect chair. Drumroll please...
I think it's perfect. The kicker was it was only $60 on ksl classifieds, it's pottery barn, so I knew it was high quality, it's comfortable and it came with two slipcovers, so it never has to be "naked" when the covers are washed.
Our other good news is that we are steadily plugging away in the basement! We're setting a goal to be finished by the end of February or beginning of March.
My hubby layed the tile in the bathroom:
The doors are mostly all in, this office door is going to be my favorite!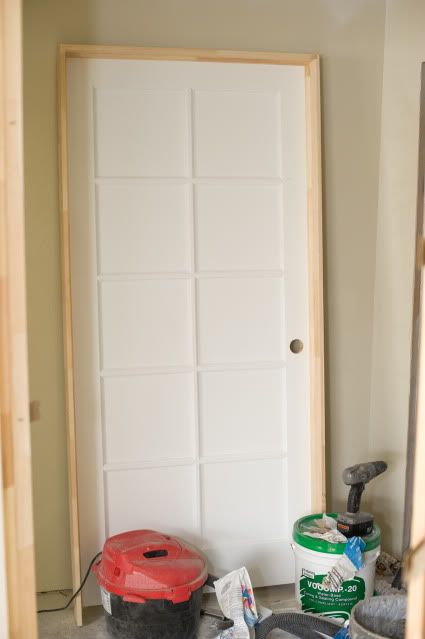 I can't wait to use all of the closets and storage space we'll be adding to our house!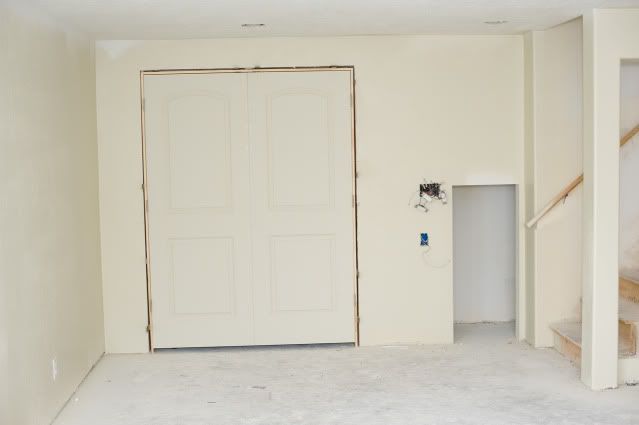 What's left to finish:
Wood stair treads (they're going to be gorgeous!)
light fixture going down the stairs
Banister and ballisters
House-ify the playhouse area
hang one more door
baseboards
trim doors and windows
board and batten wainscot in the office
touch up paint in the corners (due to overspray)
odds and ends electrical finished up
CARPET!!!
That looks like a big list, but compared to where we started it's looking like the light at then end of the tunnel!
Another little thing I've been working on is my boy's room... this was my big boy's room, and after much begging, we finally agreed to let them share. They are 4 and 2 and 1/2, so close in age, just 19 months apart, and best buddies. It was their own idea to sleep in the same room, so we decided to go with it while they want to do it. We're having another baby this summer (also why I took a little blog break, I just wasn't feeling well for a long time!) so it was perfect timing!
Here's what it looks like, now that we've got little brother moved in and settled: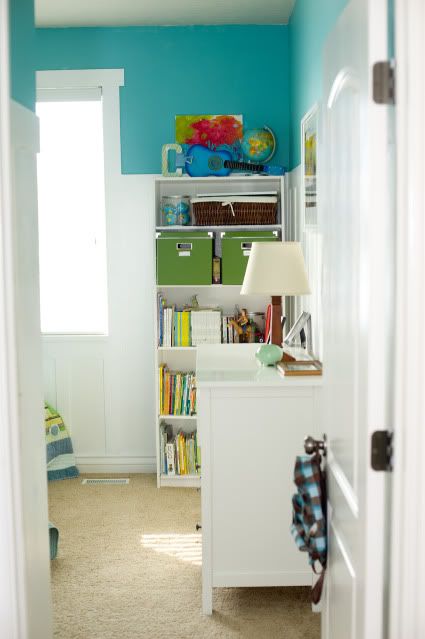 I wanted the bedding to look good together, but not match. I'm sure I'll add to it or change it a bit, but for now, this is working for everyone.
There's actually more space than it looks like there is... it's working out pretty well, and most importantly, they're loving being together!
We have a lot of work to do before this baby gets here, with finishing the basement, setting up another baby room, and getting the house organized and finding better systems so things work better. Now that I'm feeling better and the morning sickness seems to be subsiding I'll get right back to work! I have a few more things I can't wait to post about soon!